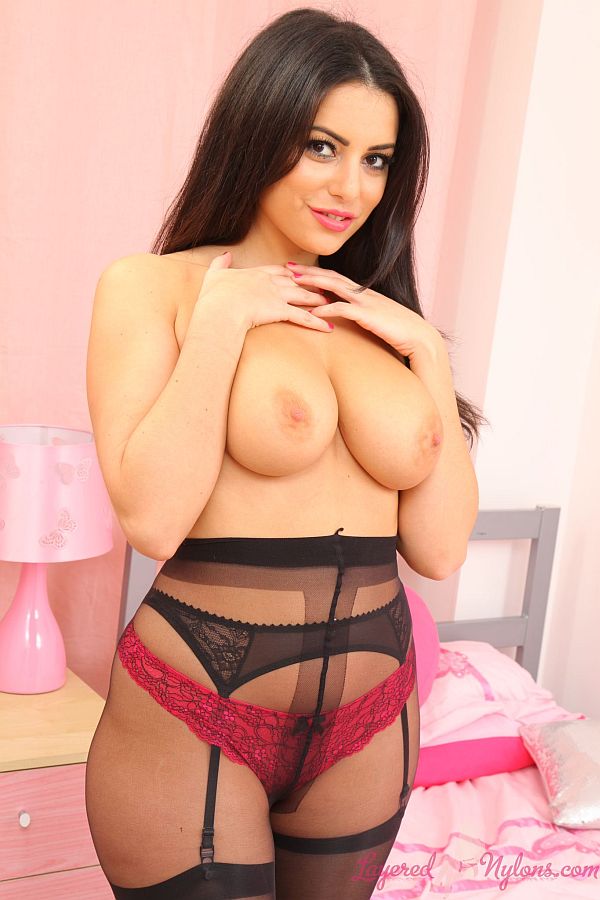 Buxom brunette Charley S returns to show off her fabulous curves, while stripping down to her sexy underwear and layers of black nylon hosiery in this photo-set…
Charley looked amazing as she posed, her bosom jutting out from under the tight fitting material of her top, stretched over the mounds of her amazing breasts. The short denim skirt clinging to the outline of her curvaceous hips, revealed just a tantalizing glimpse of black suspenders and stocking tops, around her thighs.
Charley unzipped her skirt and let it slide down her shapely legs, revealing red, lace knickers under the layer of her black, sheer nylon pantyhose. She turned to give us a view of her amazing booty and her black suspenders, stretching over the curve of her buttocks and pulling on the tops of her black, nylon stockings.
Stripping off her clingy top revealed a matching pink lace bra that uplifted her fabulous tits and pushed them together to form her ample cleavage. Then she reclined on the bed and slipped off her heels, stretching out her legs to give an extreme close up of the soles of her feet in their layers of nylon hosiery.
Charley began to strip off her bra and teasingly lingered while she removed it, slipping the straps over her shoulders and holding the cups in place over her large boobs. Finally stripping the bra away, she pressed her breasts together between her forearms as she stood and posed in her layers of lingerie, stockings and nylon pantyhose.