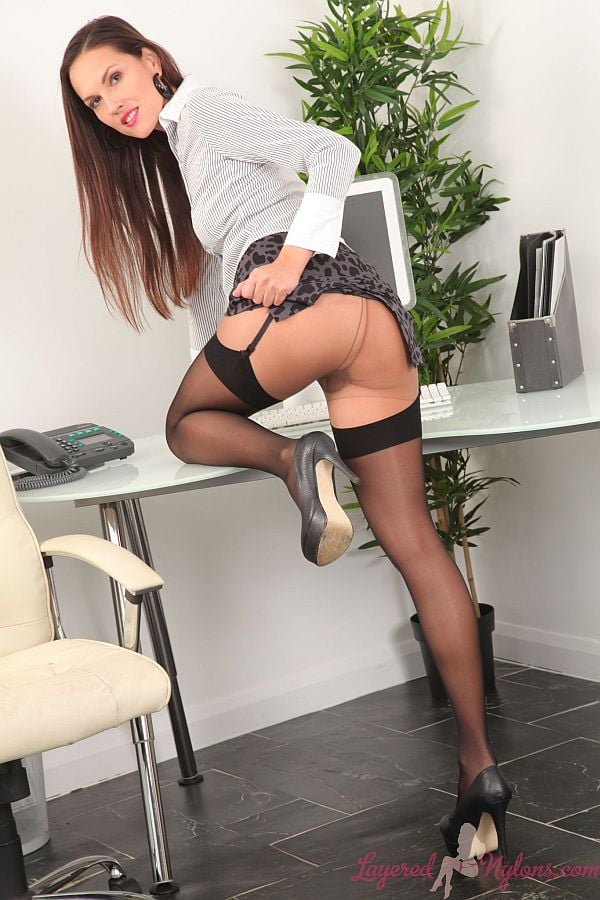 Secretary Zuzannah looked delectable as she posed in the office in her pin-stripe shirt, leopard print skirt, black hosiery and heels at the start of this photo-shoot…
Posing in her chair or leaning over the desk answering the phone, the bumps of her suspenders where clearly visible under the tight material of her skirt, which wrapped around her shapely ass.
Zuzannah stood and rested one knee on the top of the desk and pulled up the back of her skirt, revealing black suspenders and stockings layered over tan, sheer nylon pantyhose. She sat down in her chair and parted her legs to give an up-skirt view, revealing that she was sans panties under the sheer nylon gusset of her pantyhose nylons.
Zuzannah ubuttoned her shirt and stripped it off to uncover her all natural breasts, then stood and slipped her skirt over her pantyhosed ass and down her long legs. She looked so alluring as she turned and posed, running her fingers through her long brunette hair, which cascaded over her shoulders and touched her naked breasts.
Zuzannah slipped off her heels and stood tip-toe in her stockinged feet, as she posed topless in her satin suspender belt, black stockings and tan, nylon pantyhose.