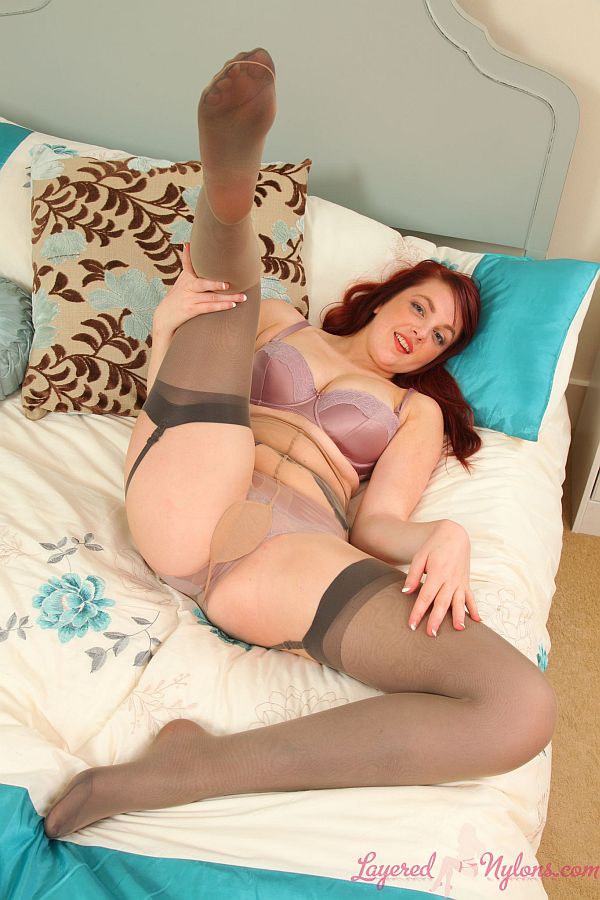 Kara Carter posed with one hand on her hip, looking very smart in a tight fitting dress which emphasized her figure, some beige-tan nylons on her shapely legs and designer heels.
She ran her hands over her curves and smoothed the material of her dress through which the bumps of her suspenders were faintly visible, the low plunging neckline revealing a tantalizing view of her fleshy cleavage.
Kara knelt and lifted the back of her dress to reveal she was wearing black nylon stockings and suspenders under the layer of her sheer nylon hose. Then she sat on the bed and slowly opened her legs to give a full-on view of the opaque oval of her pantyhose gusset, stretched over her crotch, behind which she was wearing a pair of pink panties.
Kara stood once more and lifted the dress at the back to show more of her full-back panties and the black suspenders stretching over her buttocks and pulling on the tops of her stockings. She pulled the dress over her head to reveal a pink satin and lace, under-wired bra, that uplifted her breasts and pushed the mounds together.
Reclining on the bed she slipped off her heels and spread her legs, lifting them up to show the soles of her dainty feet clad in their layers of nylons. Then she removed her bra and knelt and pushed her hand down the front of her pantyhose, slipping her fingers inside the elastic of her panties as she posed topless in her layers of sexy nylon.