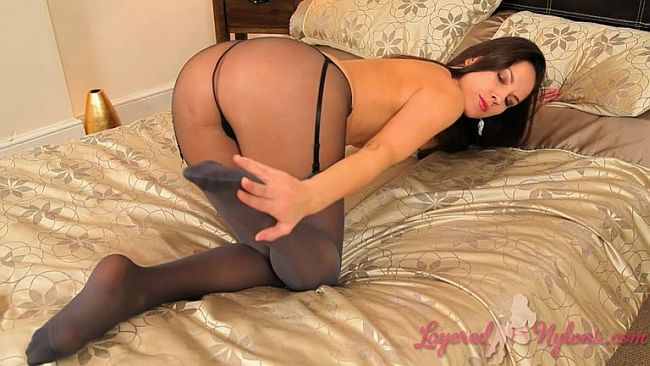 Zuzannah looked absolutely stunning as she seductively moved and slowly lifted her tight fitting woolen dress, revealing black suspenders and grey stockings, layered over sheer nylon pantyhose.
She snaked her hips as she turned to give a rear view, lifting and sliding the dress over the cheeks and sexy bum, sheathed in it's layer of clingy, black nylon hose.
Turning around one more, revealed she was sans panties under the sheer nylon of her tights, the opaque black gusset patch, stretching over the area of her crotch between her thighs.
Lifting one foot onto the bed exposed more of her nyloned crotch and her hands moved over the curves of her body and caressed the inside of her pantyhosed legs.
Pulling the dress over her head to remove it revealed she was wearing a black bra, then tilting her head to one side she ran her fingers through her long, lustrous brunette hair.
Zuzannah reclined on the bed and unzipped her suede, knee-high boots, then caressed her long legs in their layers of dark nylon. She then slipped the straps of the bra over her shoulders and revealed her all natural breasts and the faint pink blush of her nipples.
Zuzannah lay on her front and pushed herself back onto her knees so her ass was tilted upward, then she ran her hands over her pantyhosed buttocks and down her legs to touch her feet in their layers of stockings and pantyhose.