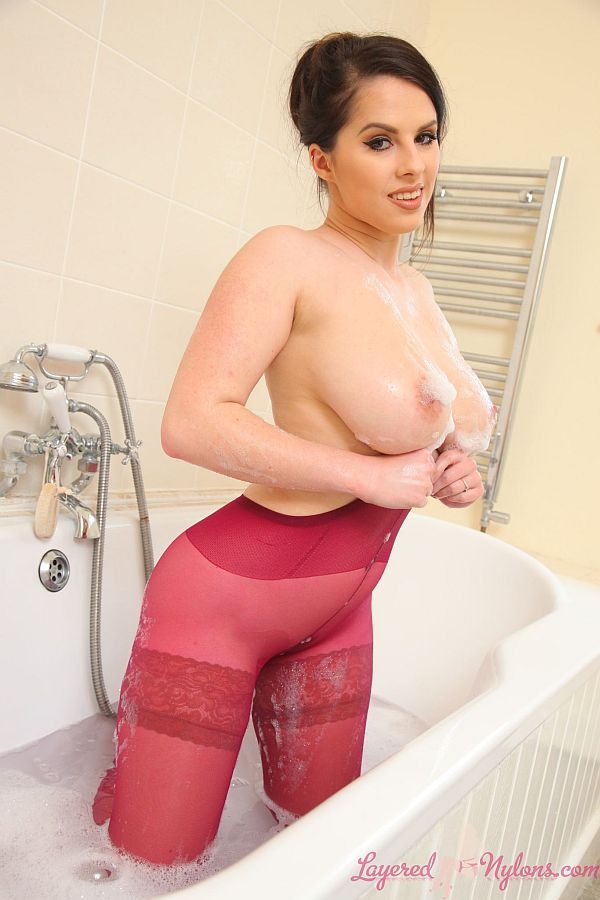 Busty brunette Jo strips off and enjoys relaxing and having fun in a nice warm bath after a long day at the office…
Jo ran her bath and standing in her heels she pulled up the back of her red dress, revealing beige-tan hold-up stockings with lace tops, under a pair of wine red, sheer nylon pantyhose. The round cheeks of her ass looked so firmly encased in their layer of tight-fitting hose, the muscles of her legs subtly defined by the height of her stiletto heels.
Sitting on the edge of the bath she slipped off her heels, then unzipped the back of her dress and pulled down the top half to reveal her gorgeous, full sized breasts. She drew the dress down her legs and stripped it off, then standing in her stockinged feet she pushed her hands down the rear of her pantyhose and squeezed the cheeks of her arse.
Jo climbed into the bath and sat lathering the soapy suds over her milky breasts as the warm water soaked into her pantyhose, making them wet and clingy around her hips, ass and thighs. She pushed her hand down the front of her hose and across her belly, drawing attention to the trimmed hairs of her pubic bush which were visible through the sheer nylon of her tights.
Jo stood up in the bath and looked back over her shoulder as she teased the pantyhose down and posed with them stretched just under the soft flesh of her wet buttocks. Then she pulled up her pantyhose and and posed topless with the sheer, wet nylon clinging to her ass, thighs and around her naked crotch.