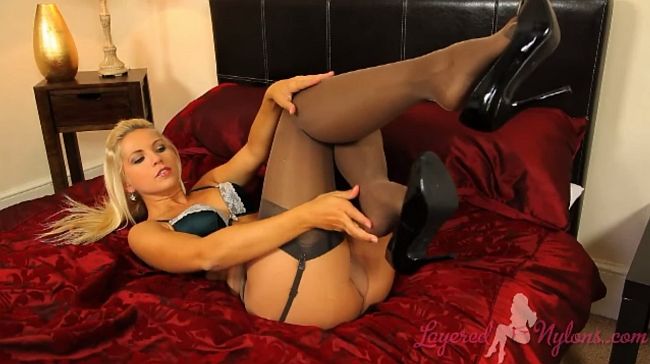 Jenni posed in her elegant evening dress, swaying sensually as she picked up the slinky folds and swirled them around her legs. She flaunted herself in front of us and turning she ran her hands over her ass and thighs, where the outlines of her suspenders appeared under the shiny material of her dress.
She slowly raised the back of her dress like a curtain, revealing black suspenders and the 'whale tail' of her pantie thong disappearing into the cleft of her buttocks, all under a layer of tan, sheer nylon pantyhose.
Sitting on the bed she caressed her legs in their shiny hose, her fingers brushing over the bumps of her suspenders under the thin layer of sheer nylon about her thighs. She knelt and ran her hands over her shapely ass, sheathed in clingy nylon, her black suspenders stretched taut around her buttocks, straining on the tops of her stockings.
Stripping off her beautiful dress, she lay back and ran her hands down her legs in their layers of shiny hosiery. Then she slipped off her heels and allowed them to dangle from her stockinged toes, rubbing her fingers under the arch of her feet, before slipping the heels back on.
Jenni reached behind her back to release the catch of her bra and quickly stripped it off, then ran her hands over her naked, all natural breasts and erect, pinkish-brown nipples. She then got up to stand and sliding her hands down the inside of her hose, she pressed her palms against the taut nylon and pushed the layer of membrane outwards.
Hooking her thumbs into the waist of her pantyhose, she turned and swayed her ass as she pulled her pantyhose up and down her bum cheeks in a very sexy tease. Then she faced forward and pulled her hose right up her belly so they were stretched tight around the crotch of her panties.