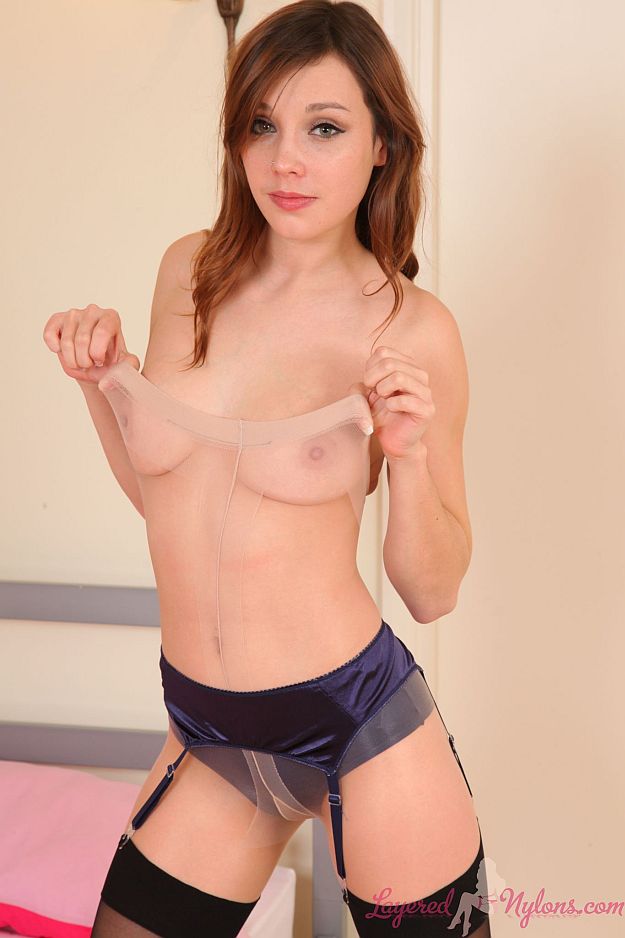 Cute redhead Jo E performs a sexy striptease in the bedroom and teases in a blue satin suspender-belt, black stockings and a layer of tan nylon pantyhose in her latest photo-set.
Jo sat on the bed and opened her legs to give us a teasing view under her skirt at the beige-tan gusset stretched over the crotch of her blue satin panties. She slipped her hand under her stocking top and caressed her nylon clad thigh, while showing off her legs in their sexy, knee-high leather boots.
Jo stood and pulled the skirt over her nylon clad ass, bending slightly so the satin panties stretched tight around her buttocks, under her sheer pantyhose. The dark blue satin suspender-belt stretched over the curve of her hips, and the suspender straps pulled taut against her thighs and strained on the tops of her stockings.
Jo looked over her shoulder and gave a sexy look as she pushed both hands under the waist of her panties, pantyhose and suspender-belt. Her hands moved under the layers of satin and nylon as she spread her fingers over the soft flesh of her shapely buttocks.
Joe stripped off her green lace top and unzipped the side of her boots to take them off and show her pretty feet in the nylon layers. She stood and posed topless, pulling the waist of her pantyhose up her tummy and stretching the sheer nylon right over her beautiful naked breasts.