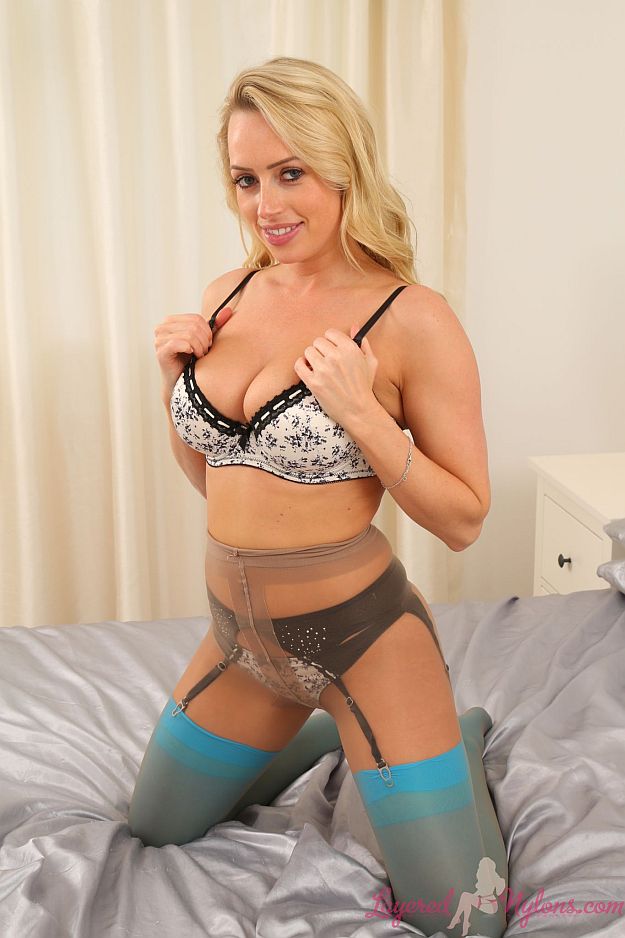 Busty Blonde Holly Gibbons strips off her summer frock and teases in her lingerie, turquoise blue stockings under tan sheer nylon pantyhose in her latest photo-set.
Holly lay on the satin bedsheets, the back of her floral dress pulled up to reveal her ass sheathed in tan nylon pantyhose. Black suspenders, attached to blue stockings, stretched over her thighs as she kicked her feet back to show her blue velvet and silver stiletto heels.
Holly stripped off the dress, revealing a tight fitting bra that squeezed her breasts and uplifted the flesh of her cleavage. She reclined on the bed, propped herself up on her arm and opened her legs to show the opaque, tan gusset of her pantyhose, stretched over the crotch of her matching panties.
She slipped off her stiletto heels and lay on her back, lifting her legs and crossing her ankles to show her feet in their layers of nylon hosiery.
Holly knelt and teased the black straps of her bra over her shoulders, and stripped away the cups so her fabulous breasts hung freely from her chest. She got up to stand in her stockinged feet, pulling her pantyhose up to the level of her tits so the gusset stretched tight around her pantie crotch.