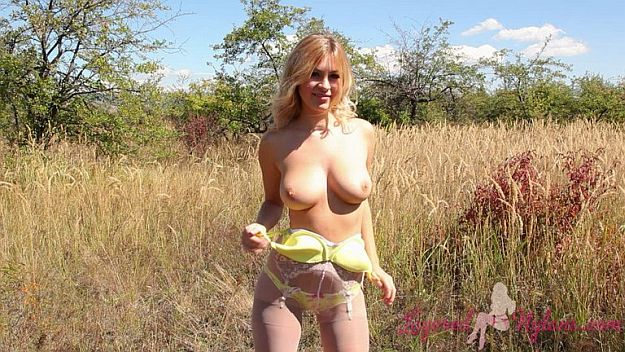 A few months ago and ventured out into the countryside on a bright sunny day to video busty blonde babe Summer stripteasing in a field.
Summer moved sensually, snaking her hips and sliding her hands over her body through the material of her orange dress that clung to her figure.
She lifted the dress around her waist to show her pretty yellow panties, white lace suspender-belt and tan stockings, under a layer of sheer nylon pantyhose. Pulling the dress higher she revealed a matching yellow bra, and squeezed her breasts together inside the cups to lift the flesh of her ample cleavage.
Summer slipped the bra straps over her shoulders and teased them down her arms, slowly peeling away the bra cups and exposing her all natural breasts. She stripped off the bra and massaged the soft warm flesh of her boobs, lifting them up and with her palms and caressing the erect nipples.
Summer hooked her thumbs into the elastic waist of her pantyhose and snaked her body; teasing the nylon over her hips as she turned to show her pert buttocks clad in the tight fitting, yellow panties.