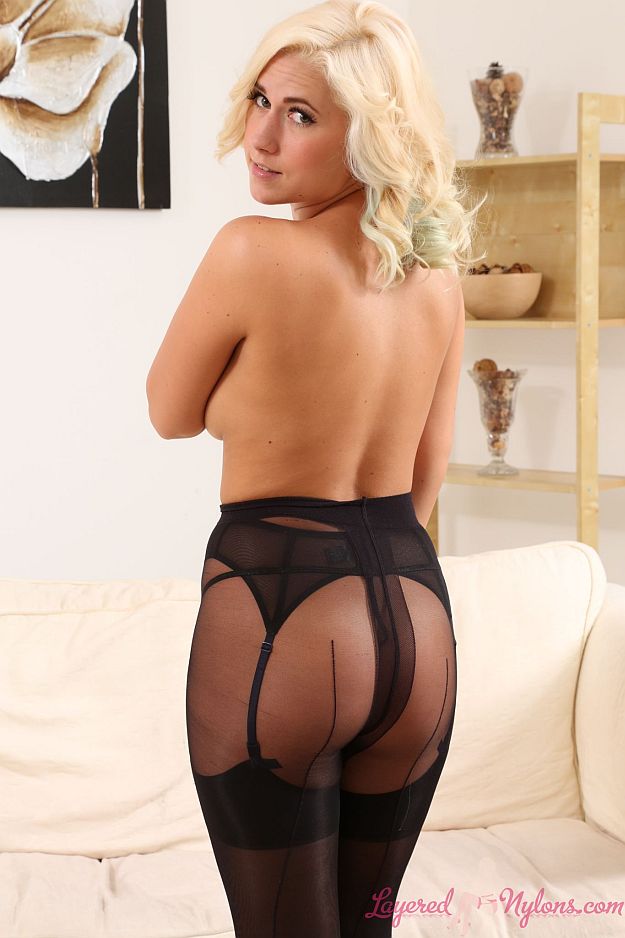 Busty blonde Victoria posed in her tight-fitting long-sleeved dress which revealed a bit of cleavage in the the low plunge open neckline.
Kneeling on the sofa, she pulled up the back of her dress and gave a view of her shapely round butt encased in black seamed pantyhose. Her ass bound in black suspenders, pulled on her stockings tops under the layer of her sheer nylon tights.
Laying on her back she caressed her shapely thighs in their seamed nylon pantyhose and lifted her legs to display her heels. She slipped off one shoe and let it dangle from her stocking toes, before removing the other heel and crossing her ankles to show her feet in their layers of black nylon hosiery.
Victoria got up to stand in her stockinged feet and pulled the dress up to uncover the artistic tattoo on her tummy that rose between the cleavage of her gorgeous big breasts.
Stripping off the dress, Victoria pulled on the waist of her pantyhose so it stretched up her front and tight around the crotch of her black pantie thong. She turned and slipped her hand down the inside of her hose, her arm moving under the stretchy nylon as she caressed the soft round cheeks of her fabulous ass.