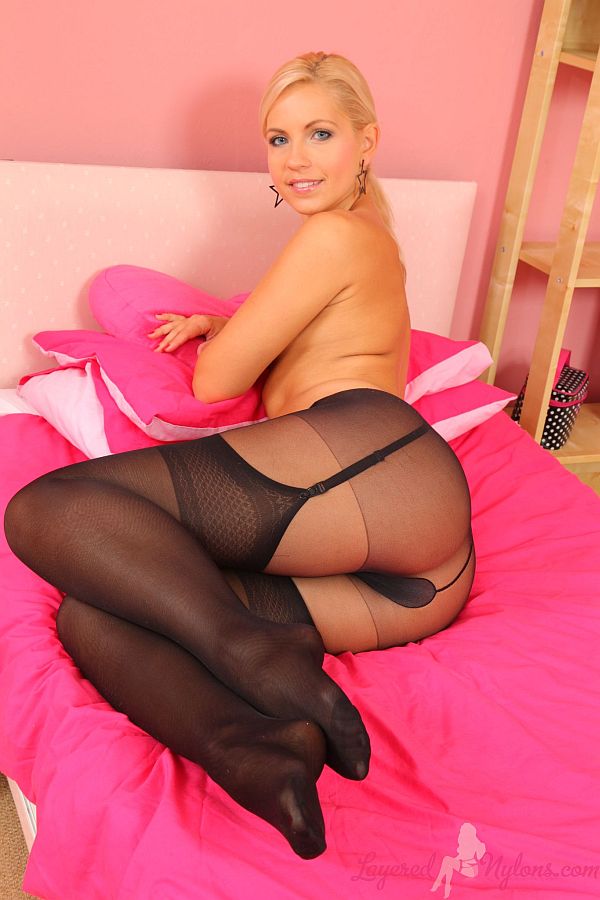 Jenni's looked very sexy in her casual outfit, featuring a tight black top, short denim skirt, black stockings and knee-high boots.
She made no attempt to hide the tops of her stockings, which was quite impossible in the short skirt she was wearing, and we could see that her thighs were layered with black nylon pantyhose.
Sitting on the edge of the bed, she rolled onto her side and extended her legs to the floor, so that her skirt rode up and revealed the black suspenders which stretched and pulled on the tops of her sexy stockings.
Jenni stood and turning her back to us, she slowly pulled up her skirt to show her tantalizing bum cheeks all nicely encased in black nylon and revealed that she was sans panties under her sheer nylon hose.
Lifting her top she stripped it away to reveal her petite, all natural breasts with their slightly brown, puffy nipples, then let her skirt slide down her legs to the floor.
Slipping off her boots, she posed topless on the bed and showed off her ass, legs and dainty feet in their tight fitting layers of nylon stockings and pantyhose.