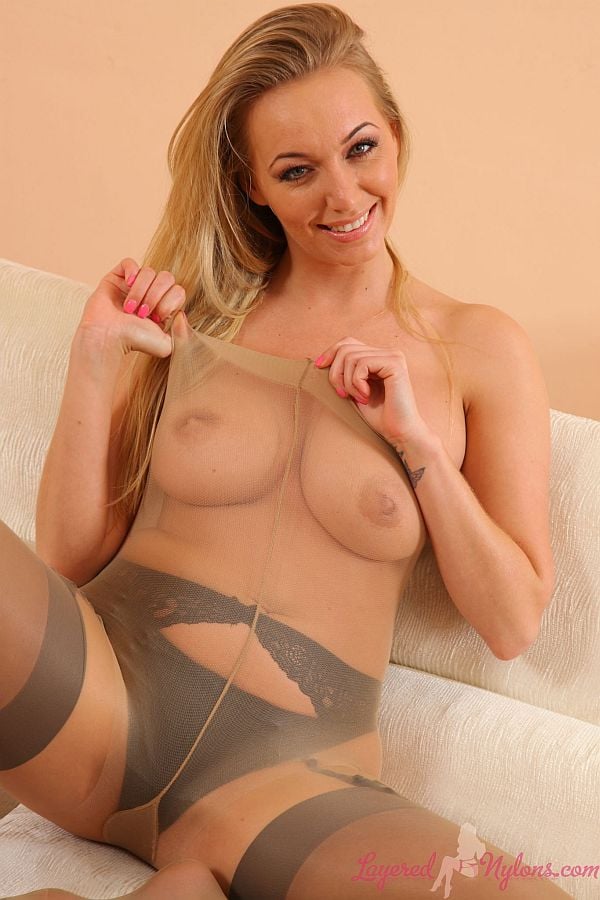 Hayley-Marie was ready to party, dressed in a black dress, her legs clad in beige tan pantyhose hose and heels.
You wouldn't have thought she was actually wearing a layer of stockings under her hose, but sure enough when she lifted her dress to show us, the dark bands of her stockings tops came into view.
'These stockings are actually black two-tone, with the leg being of a lighter shade so they blend quite well with the colour of my pantyhose,' Hayley-Marie said, as she sat on the sofa and pulled her legs up so that her nyloned thighs and suspenders came into view.
'No one will realize I'm wearing a layer of nylons, but should any lucky man get to see under my dress, he is going to get a nice surprise on seeing my stocking tops, that's for sure.'
Hayley-Marie removed her heels and stripped out of her dress to show us she was wearing a black bra, a lace suspender belt and a black thong under her sheer to waist tights.
Stripping off the bra to reveal her all natural breasts, she raised her heels and stood on her toes as she posed topless in her lingerie and nylons.
Haley-Marie pulled her pantyhose right up her front so the gusset was tight around her pantie crotch, then tugged them even higher so the sheer nylon was stretched right over her boobs.