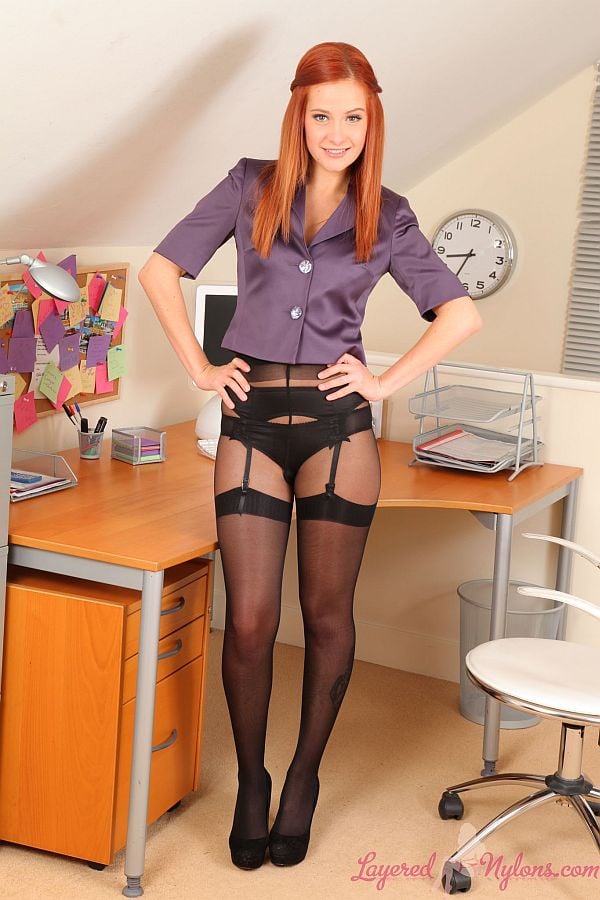 Saucy secretary Elle Richie leaned against the edge of the desk and gathering the hem of her skirt, she slowly lifted it up to give us a tantalizing look at her sexy black suspenders and the tops of her nylon stockings.
The shape of her legs looked incredibly sexy as she posed with her skirt framing her thighs, and we noticed she was wearing a layer of black, fine denier nylon pantyhose over her stockings and suspenders.
Elle unzipped the side of her skirt and pulled it down to reveal she was wearing black, almost sheer nylon panties, over a 'La Senza' suspender belt which clung tightly around her hips. Then turning around she gave a rear view of her ass and buttocks encased in those naughty, black panties, which adhered to the shape of her pert buttocks.
Elle took off her top to reveal she was wearing a black bra with sexy lace frills around the edges, which framed her breasts and pushed her cleavage together in a way that looked very enticing
Sitting in the chair she slipped off her heels and let them dangle from her toes, then removing them completely, she lifted up her legs to offer a close up view of the soles of her nyloned feet.
Elle undid the eye-hooks at the front of her bra and stripped it away to uncover her all natural breasts, then posed topless with her hand pushed down the inside of her sheer nylon tights.