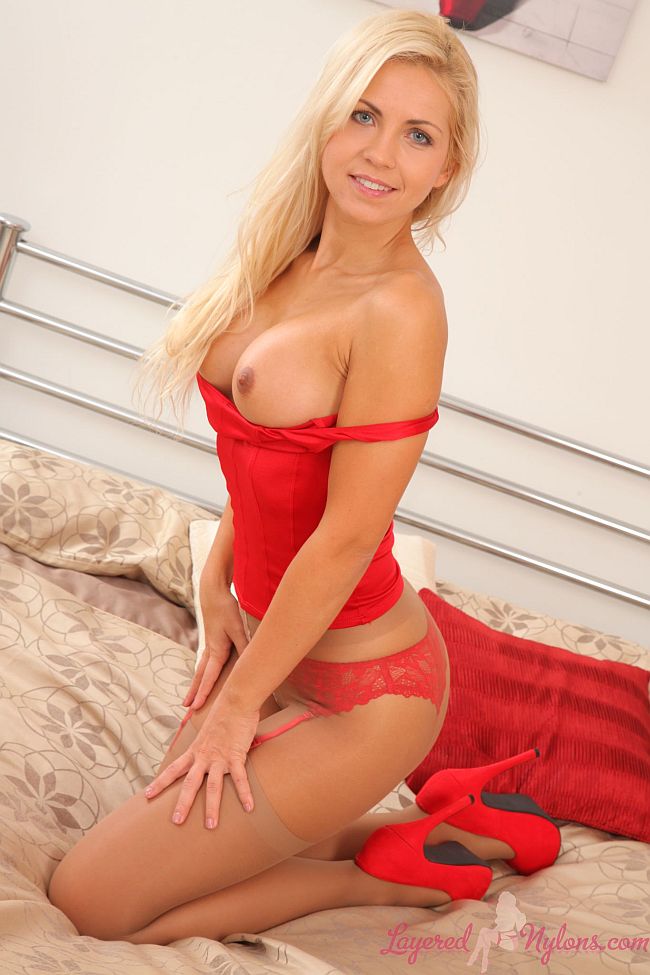 Jenni dresses casually in a red vest top, short denim skirt and layers of tan nylon hosiery, strips down to her lingerie and teases in her latest photo-set for Layered-Nylons.
Jenni lay on the bed and slowly pulled back the hem of her short skirt to reveal red suspenders and tan stockings, under sheer nylon pantyhose. The cheeks of her bum and her thighs looked so sexy in their layer of tan nylon, all nicely bounded by the long-red suspenders attached to her stockings.
She slipped the straps of her vest over her shoulders and pulled it down to reveal her rounded breasts and erect nipples. Then she stood to unzip her skirt and it slipped down her long legs, revealing her red suspender-belt framing the area of her naked crotch under her sheer nylon pantyhose.
Jenni slid her hands down the inside rear of her hose and spread her fingers around the firm cheeks of her ass. Her hand moved around the inside of her hose and she pushed them against the front panel and the taut nylon stretched over her flat palms.
Jenni finally stripped off her top and sitting on the bed she slipped off each of her red stiletto heels. Then she lay back and lifted her legs up high, crossing then at the ankles and giving a close up view of her pretty feet encased in their layers of tan nylon hosiery.