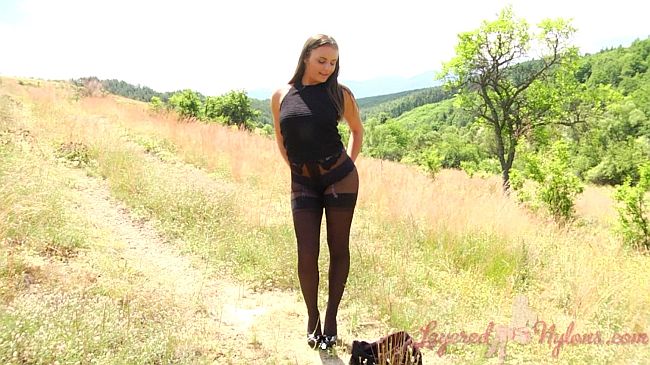 We shot this video of Siobhan out in the countryside on a warm breezy day, where she stripped off her skirt and teased us in her layers of black nylon hosiery.
Standing on a quiet dirt track in her tight fitting skirt and stiletto heels, Siobhan moved seductively and caressed the contours of her body as she began her striptease.
Sliding her hands over her thighs, she pulled up the hem of her skirt to give a tantalizing glimpse of purple suspenders attached to black stockings, under a layer of sheer pantyhose. Her hands rounded over the firm cheeks of her ass encased in tight nylon, under which we could see she was wearing some black, lacy French knickers.
Unzipping the skirt, she wriggled it over her hips and let it slide down her nyloned legs to the dusty ground, where she kicked it to one side. Then untying the halter neck of her top, she stripped it off and fondled her breasts, uplifting them in her hands and brushing her fingers over the erect nipples.
Siobhan stretched the waist of her pantyhose up her front so the gusset pulled tight around the crocth of her panties, and turned to show off her shapely figure in her layers of lingerie and nylon.