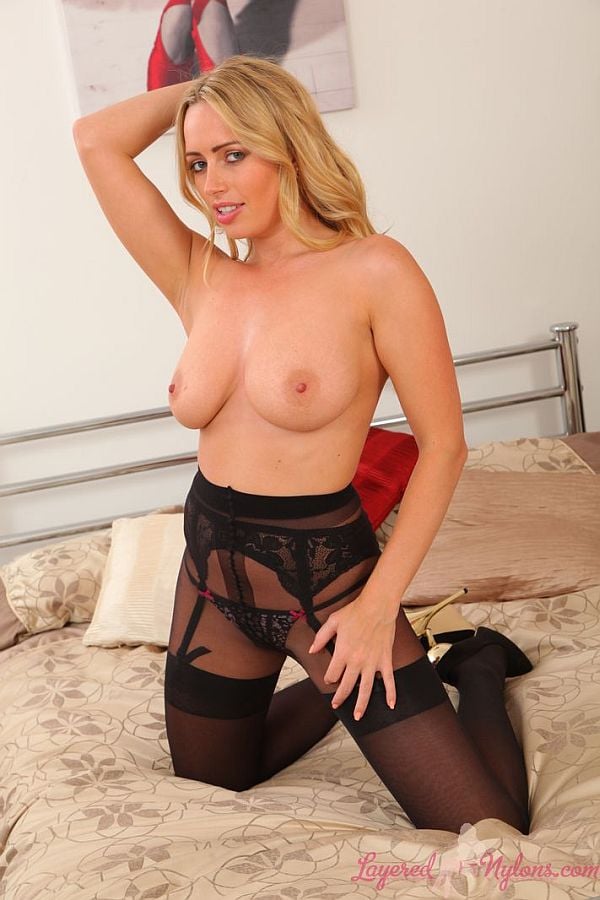 Holly Gibbons is the total package… Blue eyes and long blonde hair, a warm smile and a shapely figure that looks fabulous in her black dress. Yes, you'd certainly want to be seen with this girl on your arm…
Holly not only looks great, but she's wearing some incredibly sexy underwear, as we discovered when she lifted up her dress to reveal black suspenders and stockings, all under a layer of sheer nylon pantyhose.
Unzipping the dress at the back, she pulled it over her shoulders and down to her waist, uncovering a patterned bra supporting her shapely bosom. She let the dress slide over her fully-rounded buttocks, all nicely sheathed in a layer of black sheer nylon, under which she was wearing a black, lacy suspender belt and pantie thong.
Holly pushed her hand down the side of her pantyhose and spread her fingers over her fleshy thighs, then pulled down her hose to show her pantie thong, framed by the long black, suspenders attached to her nylon stockings.
Holly looked over her shoulder and smiled a she she unhooked her bra,  then releasing the catch she held the cups in place over her breasts. She eventually stripped the bra away to fully-reveal her pendulous, all natural titties and posed topless in her layers of black lingerie and nylon hosiery.