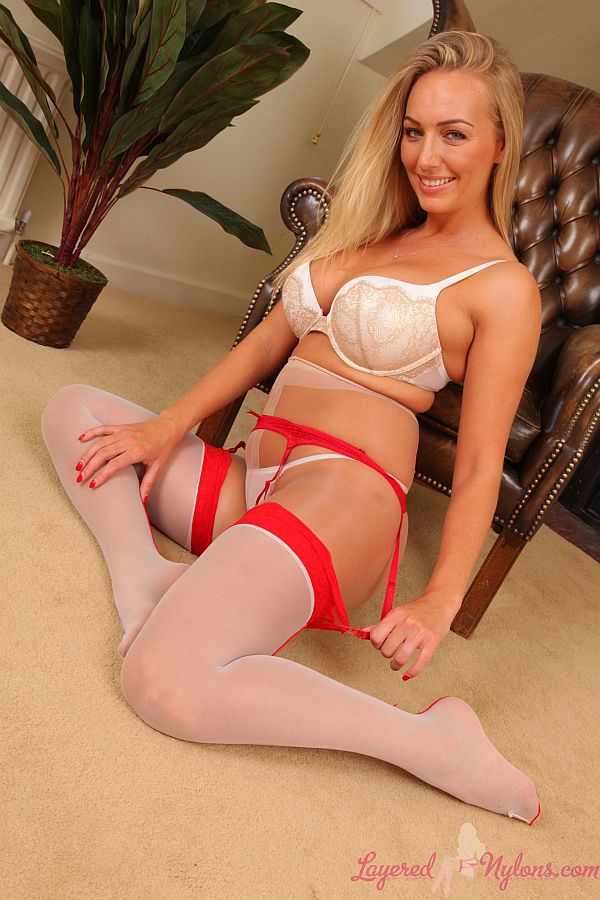 Hayley-Marie stood next to the leather chair and placed one foot on the arm so her short red skirt pulled back and revealed she was wearing red suspenders and white stockings, over beige tan pantyhose.
She beamed a saucy smile as as she posed in that position, her taut red suspenders stretching under her thighs and pulling taut on the red tops of her white nylon stockings.
Sitting in the chair she opened her legs, then crossing her arms she slipped her fingers down to tops of her stockings, her wrists framing the white pantie thong, behind the sheer nylon gusset of her pantyhose.
Hayley-Marie slipped off her heels lifted up her feet to show the red-seam of her stockings running under the soles. She stripped off her t-shirt to reveal her fabulous bust supported by a delicately pattered bra, then began to detach her suspender belt and rolled off her stockings.
Standing to take off her pantyhose, she rolled them down to her thighs and gave us a view of her naked ass and the white thong of her panties in the cleft of her buttocks. Having removed her pantyhose, she then slipped her feet into her stockings and pulled them back up her legs, finally re-attaching her red suspenders.
Hayley-Marie pulled on her pantyhose so they were layered over her panties, suspenders and stockings, then stripping off her bra she posed topless as she stood in her stockinged feet.