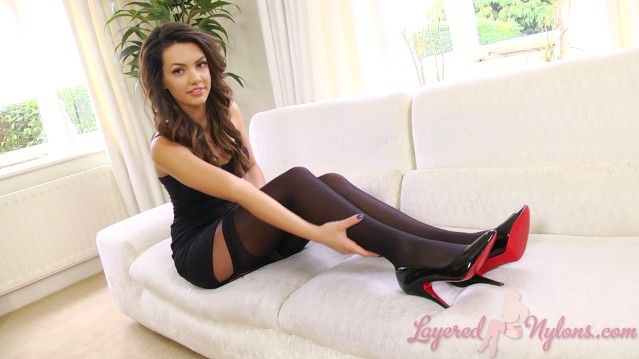 Abigail B looks like the perfect party girl in her classic, black dress, legs in nylons that have a nice sheen and shiny, patent leather heels.
Her luscious lips curled into a subtle smile as she ran her hands over her fabulous curves, then lifted her dress and brushed her fingers lightly over the clasps of her black suspenders and stocking tops.
Kneeling on the sofa, she pulled up the back of her dress and circled her hands over her buttocks, encased in black, sheer nylon pantyhose and incredibly sexy, full back panties. Her black suspenders stretching over the cheeks of her ass and down her thighs, pulled taut on the tops of her black nylon stockings.
Abagail stripped off her dress, easing it over her rounded buttocks and letting it slide down her legs to pool around her leather heels. Stepping out of the dress, she turned to face us and fully reveal her lingerie bra and lacy suspender belt, tugged and adjusting the pantyhose around her waist.
Stripping away her bra, her arms moved fluidly as she played with her all natural breasts, cupping and uplifting the peachy mounds in her hands and playing her fingertips of the pink, erect nipples.