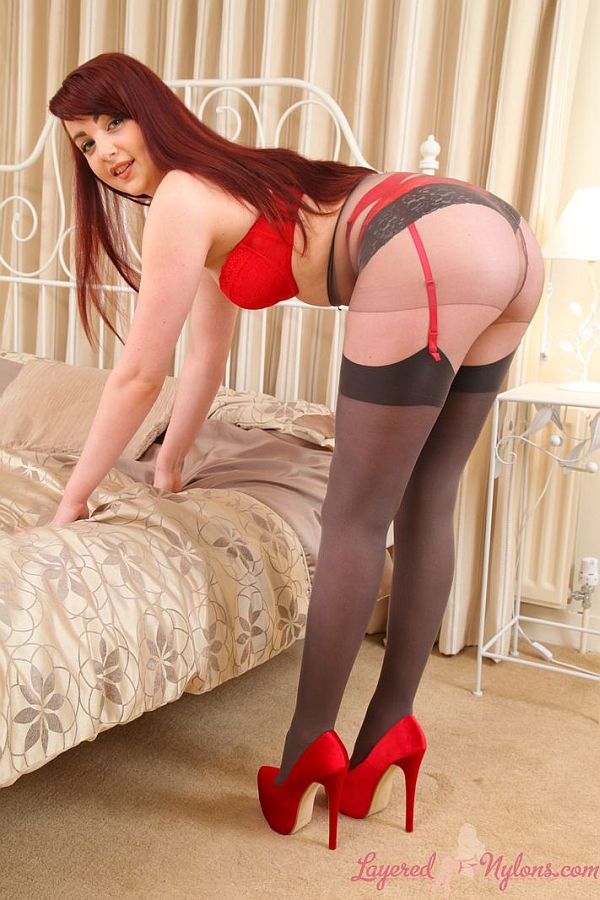 Kara gave us a saucy smile and wiggled her hips as she slowly lifted the hem of her clingy blue party dress, revealing red suspenders attached to black stockings, all under a layer of grey, nylon pantyhose.
Standing in her red heels, she lifted her leg and placed her foot on the bed to give an up-skirt view of her pantie crotch and the sheer gusset of her hose stretched between her thighs.
Kara stripped off her dress, revealing a red strapless bra and matching suspender belt, plus red-black, lacy panties under the dusky layer of her sheer nylon tights.
Kneeling on the bed she ran her hands over the curves of her lovely rounded bottom, all nicely sheathed in pantyhose nylon, the taut red suspenders straining on the tops of her black stockings.
Slipping off her heels, she let them dangle from her toes awhile, before kicking them off and giving a close up view of the soles of her feet in their opaque layers of nylon.
Kara stripped away her bra, concealing her tits with her hands as she stood and posed in her red suspenders and layers of nylon hosiery.