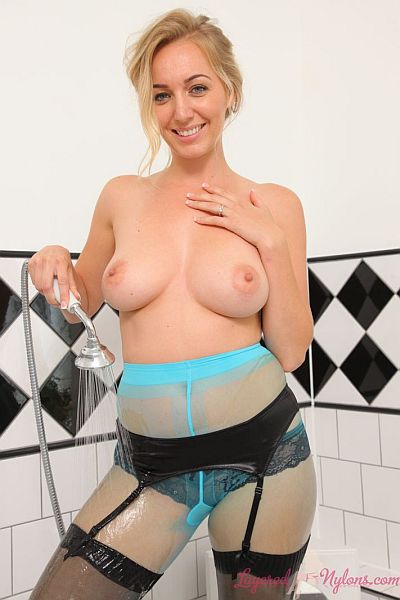 It's Hayley-Marie's bath time and she lifts her blue satin camisole to show she is wearing black stockings and satin suspender belt, over blue, sheer to waist pantyhose under which her sexy black lace panties show through.
Hayley-Marie sits on the edge of the bath and removing her heels she then stands to display her nyloned legs and feet. Pulling the straps of her camisole over her shoulders, she turns her back and teasingly slips out of the satin garment. She then turns around again with her hands covering her breasts at first, then removes them to display her naked breasts as she poses topless in her layers of nylon and lingerie.
Turning on the shower faucet she steps into the bath tub and holding the nozzle, sprays jets of water over her stockings so the layers of nylon cling to her legs. She turns around to allow the water to run over her ass and soak through her pantyhose and into her panties, causing rivulets of water to run down her nyloned thighs and legs.
Hayley-Marie holds the shower nozzle high and sprays warm water all over her naked breasts. Then sitting down in the bath she aims the needle like jets of water at her nylon covered feet and lifts them up to show they are thoroughly soaking wet.
Standing once more Hayley-Marie pushes her hands down the front of her pantyhose and feels her naked thighs under the clingy nylon layers, making her suspender-belt stretch as she moves her hands around inside her wet hosiery.
See sexy blonde babe Hayley-Marie enjoy getting wet in her layers of stockings and nylon pantyhose in this 132 image photo set at Layered-Nylons.