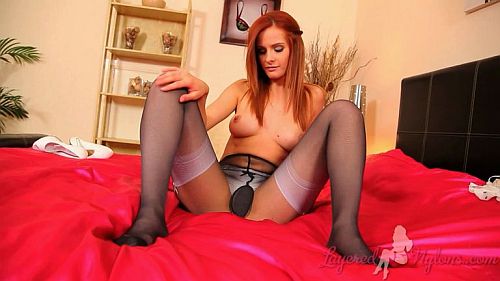 'Hi guys, it's Elle. I'd thought I'd show off my summer dress and my layered nylons,' says our lovely redhead with a brief wave and a smile as she lifts her flirty dress and gives a glimpse of the white nylon stockings and suspenders she is wearing under sheer black pantyhose.
Elle turns and lifts the dress at the rear and gives a splendid view as she runs her hands over her ass sheathed in delicious black nylon, beneath which she is wearing sexy white and polka dot panties that cling to the shape of her buttocks.
Kneeling on the bed she pushes her hands down the back of her pantyhose and pulling on one of her long white suspender straps, she lets it snap back with a resounding slap against her thigh.
Elle's nyloned legs brush over the surface of the fuchsia coloured satin sheets that cover the bed as she changes position. She then lifts her dress over her head, revealing she is wearing a white uplift bra, plus suspender belt and panties under the layer of her sheer to waist pantyhose.
Slipping off her shoes she lifts her legs to show the soles of her feet, then unhooks her bra and removes it to reveal the soft, mounds of her breasts with their rather large, bud like nipples that stand out firm and erect.
Elle stretches out on the bed and extends her legs over the satin sheets to show her feet encased in nylon, her hands caressing the surface of her thighs and buttocks in their layers of sexy pantyhose and stockings.
See Elle Richie perform her naughty tease in her layer of sheer black nylon pantyhose over white stockings and lingerie in this video at Layered-Nylons.