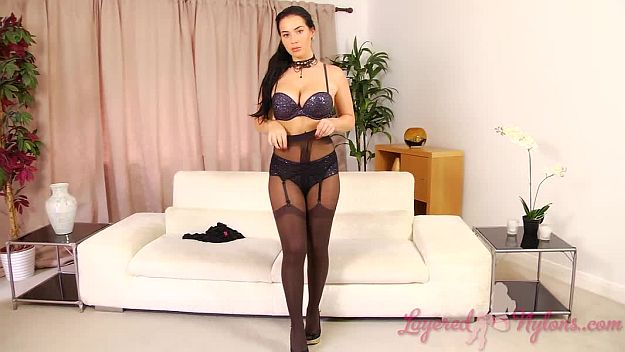 'Hi, I'm Georgina and welcome to my video,' says our glamorous model, blowing us a kiss and lifting her long black evening dress to show her legs in hosiery and heels.
Georgina looks so pretty, her long hair tied in a loose pony tail gracing her slender neck, around which she wears a pretty black necklace that draws our eyes down the ample cleavage showing at the front of her open-neck dress.
Georgina turns and lifts her dress and sways her ass, her firm buttocks encased in tight, black panties and sheer nylon pantyhose. Her black suspenders stretch around her thighs as she moves, pulling on the tops of the dark brown stockings that cling to her shapely legs.
Georgina strips off her dress, revealing a purple sequined bra that sparkles as she parades around in her stockings and gold stiletto heels. She releases the catch of her bra, swaying on her stiletto heels as she turns around to pose with her hands slightly covering her all natural breasts.