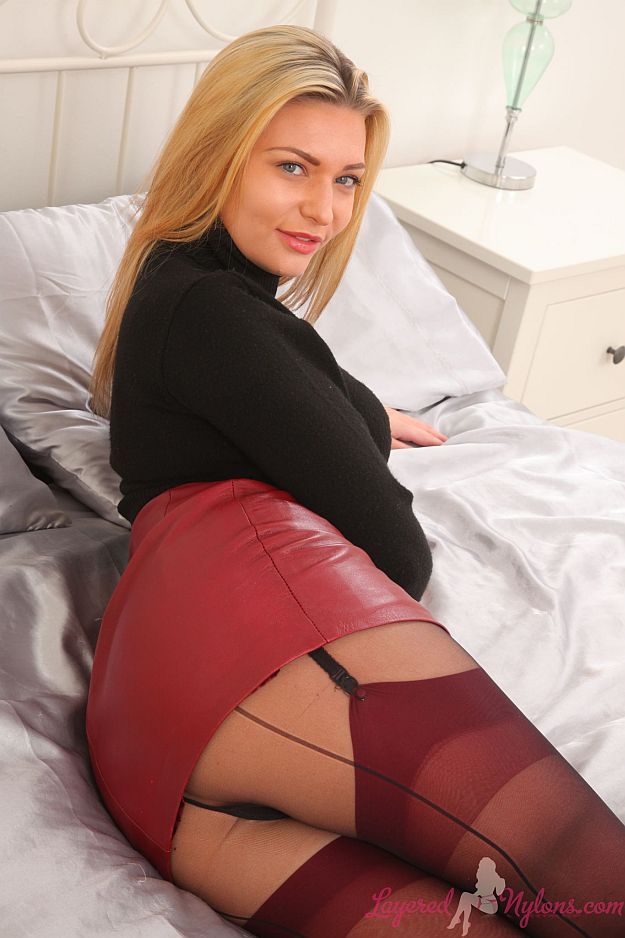 Stephanie's long blond hair fell over her shoulders and rested upon her breasts thrusting under her black polo neck sweater, her short red leather skirt giving a tantalizing glimpse of the red nylon stocking tops around her shapely thighs.
Laying down on the bed on her front she kicked back her stiletto heels and crossed them at the ankles. Her leather skirt pulled tight around her curvaceous ass and up her thighs covered in seamed pantyhose, revealing the black suspenders attached to the tops of her red stockings.
Stephanie stripped off her sweater, uncovering a black bra that uplifted and held her ample bosom firmly in place. Unzipping her skirt, it dropped to the floor and she stepped out of it, then turned to show the black pantie thong framed by the straps of her suspenders, under the layer of her sheer nylon pantyhose.
Stephanie hooked her thumbs under the straps of her bra and slipped them down her arms, then released the catch a the back and drew away the cups to reveal her peachy, all natural breasts.
Standing in her stiletto heels, Stephanie adjusted the layer of nylon hose around her waist, while posing topless in her sexy lingerie and layers of nylon hosiery.