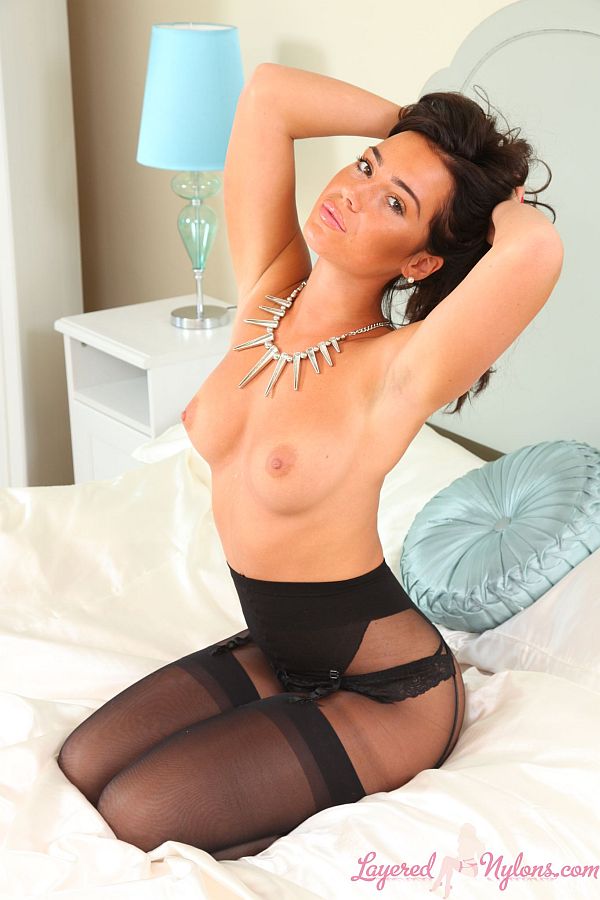 Georgina looked stunning dressed all in her black outfit, which she likes to wear whenever she's our clubbing and looking to attract the opposite sex. She sure exerts some pulling power in this tight fitting black dress, her legs clad in black nylon and a pair of black heels to complete the ensemble. What a cracker!
Georgina knelt on the bed and tilting her ass upwards the dress lifted and uncovered her thighs, revealing the tops of her black stockings and suspenders, layered over black nylon pantyhose.
She stood and eased the shoulders of her dress down her arms, letting it slide down her body to reveal her all natural breasts and posed topless in her stockings, hose and shiny, patent leather heels.
Sprawling on the bed she stuck her bum in the air once more to give another look at her nyloned ass; the back of her pantie thong disappearing between the cleavage of her buttocks under her layer of sheer pantyhose.
Laying on her belly she slipped off her heels, then pushed herself up on her arms and swung her legs back, pointing her pretty feet and toes all nicely sheathed in their layers of black nylon stockings and pantyhose.