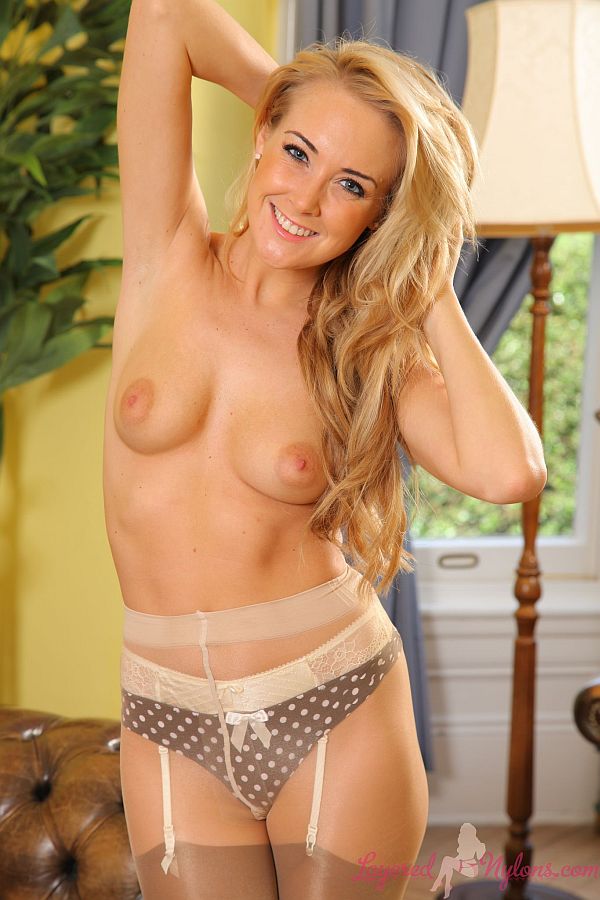 Lucy-Anne was wearing a loose fitting dress which swished as she lifted it up her thighs, revealing her slender legs clad in brown nylon stockings, under a layer of shiny, sheer nylon pantyhose.
She stood and put one foot on the sofa, then parted the back of her dress so it hung down, which gave a tantalizing view of her cream coloured suspenders as they stretched around her thighs and pulled taut on her stocking tops.
She slipped the straps of the dress over her shoulder and allowed is to slide down her body, revealing her polka dot bra and matching panties which were under her sheer to waist pantyhose.
Lucy Anne pushed her hand down the front of her pantyhose and lowered the waist slightly to give a glimpse of her cream, satin and lace suspender belt around her hips. Then she moved her hand around the inside of her hose and spread her fingers over her suspender clad thigh, while giving a view of her ass encased in its layer of silky, sheer nylon.
Removing her bra she posed topless in her lingerie, her long blonde hair cascading over her shoulders down to her petite, naked breasts, as she pulled down her tights to show more of her panties and lacy suspender belt.