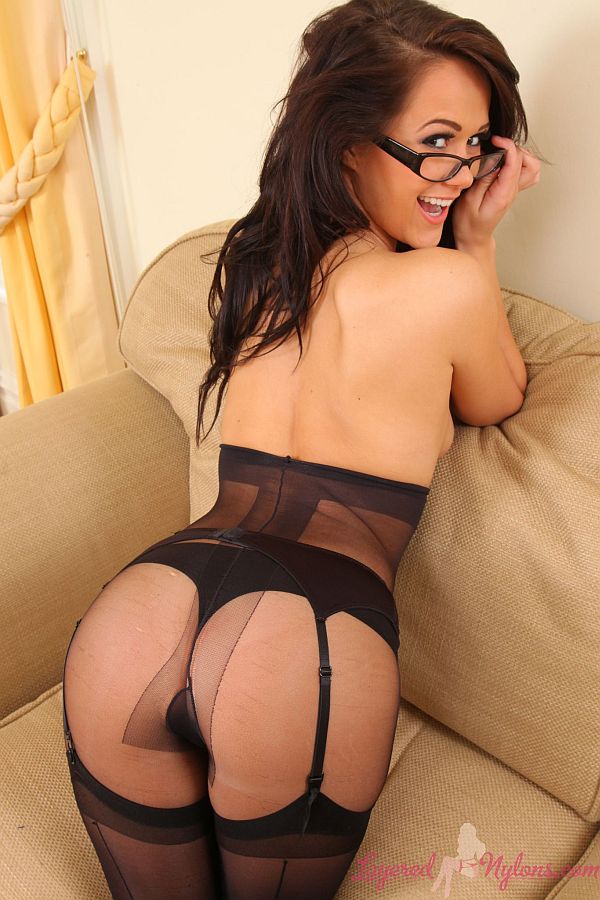 Secretary Felicity Hill turned and looked back over the rim of her spectacles, giving a saucy smile as she showed us her fabulous her ass in her short, tight fitting skirt. The curves of her shapely legs clad in black, seamed nylon stockings, so well defined as she stood and posed in her super shiny, stiletto heels.
Laying back on the sofa and adjusting her glasses, she slipped her hand down the tops of her seamed stockings and the layer of black pantyhose that covered her thighs. Rolling over onto her front, she gave a view of her sexy bum encased in black nylon, then folded her legs back to cross her ankles and show off her sexy, spiked heels.
Felicity sat and pulled open the front of her dress to display her perfectly formed, all natural breasts and cupped them gently in her hands. She stripped the dress off over her head, revealing black panties under her high waist pantyhose and a black, satin suspender belt, layered over her sheer, nylon tights.
Felicity knelt on the sofa and deliberately stuck out her epic butt, sheathed in clingy black hose, causing her suspenders to stretch around the hemispheres of her buttocks and pull taut on the tops of her seamed nylon stockings.