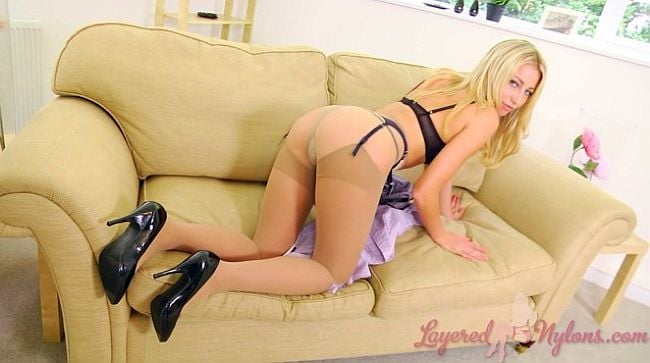 Blonde secretary Bianca is ready to tease you as she takes off her clothes and poses in her lingerie and nylons, in this video…
Bianca turns on the spot and lifts her grey pencil skirt to reveal she is wearing tan stockings over sheer nylon pantyhose. She parades before you, pulling her skirt back down and pulling it up again to give another flash of her suspenders and stockings tops, teasing you all the while with glimpses of her sexy underwear.
Sitting on the the arm of the sofa with her legs spread either side, she bunches her skirt around her hips to show her dark blue, pantie thong, under the layer of her beige-tan nylon tights.
Stripping off her shirt and unzipping her skirt, she slides it down her stockinged legs and steps out if it to pose in her matching suspender belt, panties and tan nylon hosiery.
Reclining on the sofa, she takes off her heels and opens her legs to show the opaque, beige-tan oval of her pantyhose gusset, stretched over the crotch of her panties. Bianca slips the straps of her blue satin bra over her shoulders and runs her hands over her petite, all natural breasts and poses topless in her layers of lingerie and nylon hosiery.