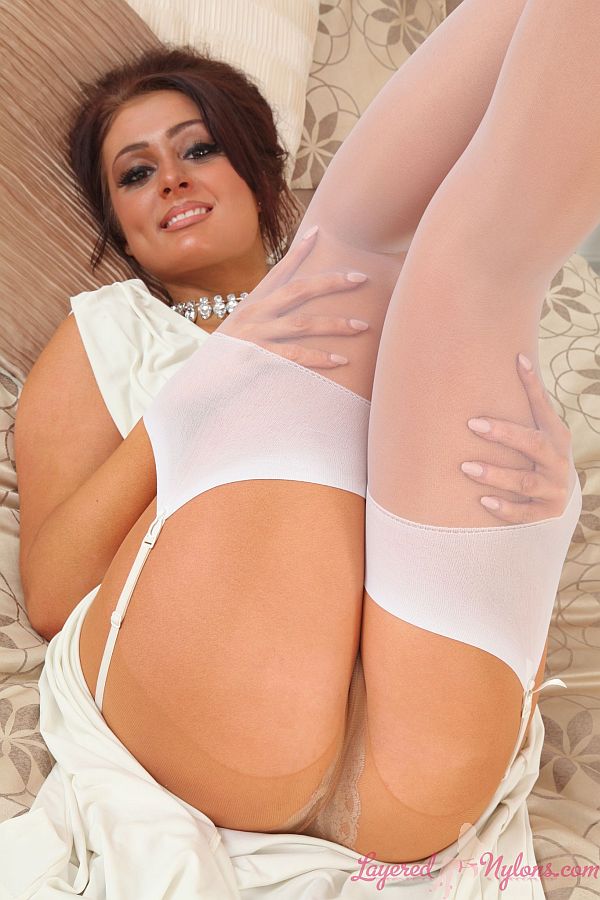 Ashley is a gorgeous, busty brunette and looks incredibly sexy in her white evening dress, under which she is wearing white lingerie, stockings and a layer of tan nylon pantyhose.
Posing in her long, flowing evening dress, she looked very elegant and the low cut, open-neck revealed a tantalizing glimpse of her her ample cleavage. The diamond necklace around her neck sparkled as she turned to sit down on the bed, then brushing aside the folds of her dress she gave a quick flash of her white suspenders and stocking tops.
Ashley lay back and pushing her legs together she lifted them up so the tan gusset of her pantyhose, layered over her sexy lace panties, came into view. Smiling, she slipped her hands between the layers of her nylon hosiery and pushed them deep inside, making the white suspenders pull taut on the tops of her nylon stockings.
Ashley slipped off her sliver sparkling heels and pulled open the top of her dress to display her fabulous, all natural breasts. She stood to strip off her dress and let it slide over her curves, revealing her sexy knickers under her tan hose and the white, lacy suspender-belt, attached to the tops of her stockings.
Reclining on the bed, she posed topless and lifted her legs once more, crossing them at the ankles to give a view of her pretty feet in their layers of nylon hosiery.