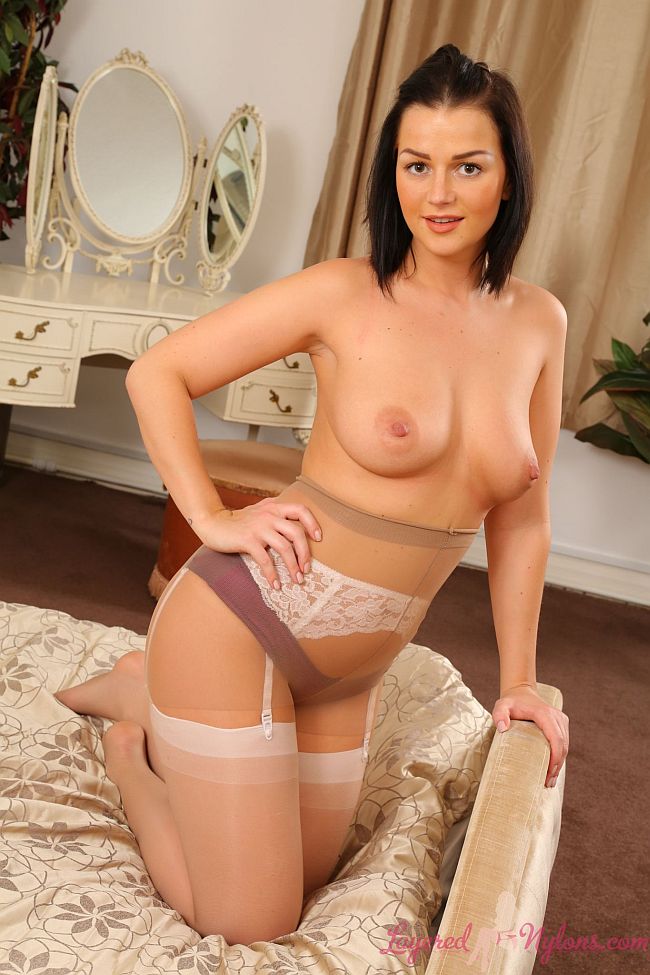 Erica's soft brown eyes and lips smiled subtly as she posed in her sleeveless top, short leather skirt, creamy colored hose and high-heel ankle boots.
Sitting on the bed, she slipped off her boots and lay on her back, then lifted her legs high and crossed them at the ankles to show the soles of her feet in their layers of nylon.  She pulled the hem of her skirt back over her thighs to reveal the suspenders and tops of her tan stockings under the layer of her white nylon pantyhose.
Standing in her stockinged feet, she unzipped the front of her skirt and it slid down her legs to the floor, revealing a pair of wine-red panties and white lace suspender-belt under her sheer nylon tights. Stripping of her top uncovered a matching wine-red, low-cut bra that displayed her cleavage and uplifted her ample breasts.
Slipping the straps of the bra over her shoulders, she held the loose cups in place over her bosom, then stripped the bra away to reveal her peachy, all natural boobs. Kneeling on the bed, she presented her fabulous ass and slipped her hand down the inside of her pantyhose to feel her shapely buttocks, sheathed in tight fitting panties and sheer nylon.