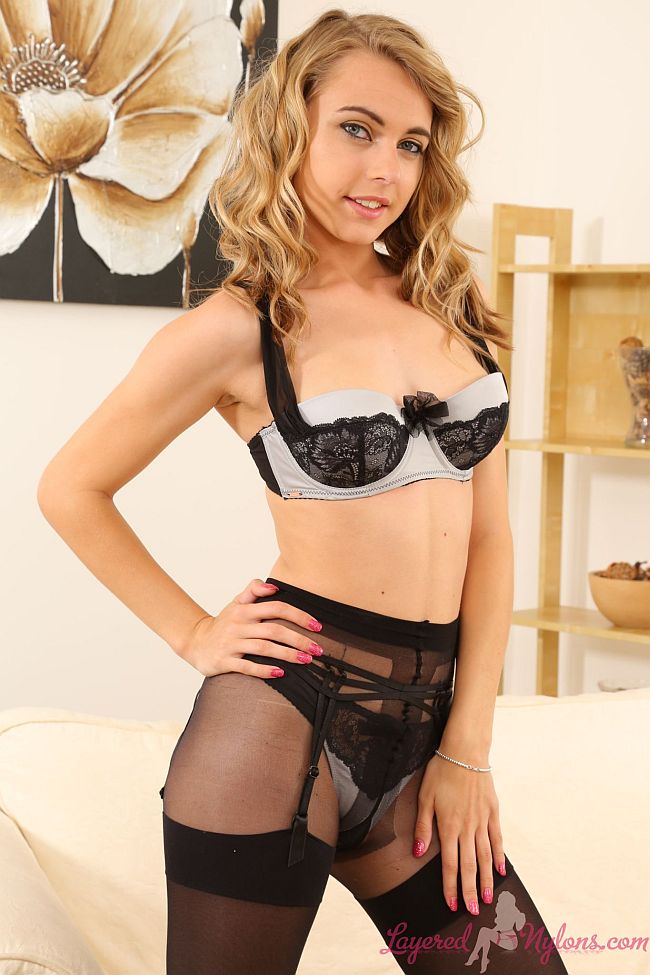 Chloe Toy looked fabulous in her grey, tight fitting dress, it just clung so well to her curves and around her breasts. Sitting on the sofa, she gave a naughty look and opened her legs to give a teasing view up her dress at her panties under her black sheer nylon pantyhose.
Shifting around to kneel, she lifted up the back of her dress to reveal the black suspenders stretching down her thighs and attached to her black stockings. She turned to lay on her back and swung her legs up high, crossing them at the ankles to show her matte-black, leather stiletto heels.
Stripping off her dress, she stood and posed in her grey and black lace bra and matching panties, then turned to show the cheeks of her ass sheathed in black nylon and bound by the designer suspender-belt and suspenders pulling on her stocking tops.
Chloe reclined on the sofa and slipped off her heels, then slipped the straps of her bra over her shoulders and stripped it away to uncover her petite, all natural breasts. She detached her suspenders and rolled off her stockings, then stripped off her pantyhose and panties so she was naked, except for the suspender-belt around her waist. Posing a moment, she sat looking very beautiful, then rolled on her stockings and attached her suspenders, followed by her pantyhose, which she pulled up and layered over her lingerie.