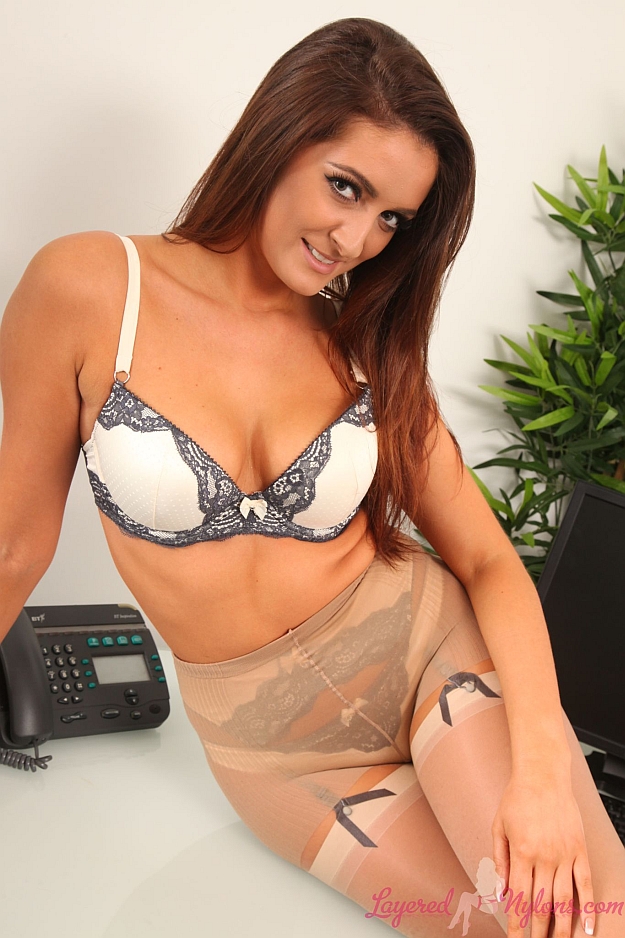 Secretary Demi J turned up at the office wearing a smart pinstripe shirt and a short leather skirt that showed the bumps of her suspenders as she leaned over the desk to give us a view.
Demi sat in the chair with one leg crossed over the other and the skirt pulled back over her thighs, giving a teasing glimpse of black suspender and cream coloured stockings under a layer of sheer nylon pantyhose.
Demi slowly unbuttoned her shirt and stripped it away, revealing a white and grey lace trimmed bra. She turned and bent over the desk to give a view of her ass and the back of her black pantie thong; her fabulous buttocks bound by the taut straps of her suspenders and sheathed in a layer of beige, sheer nylon pantyhose.
Demi slipped the straps of the bra over her shoulders and stripped it off to expose her gorgeous all natural breasts. Then she sat in the chair to slip off her heels and lifted her legs to show her pretty feet in their double layers of nylon hosiery.