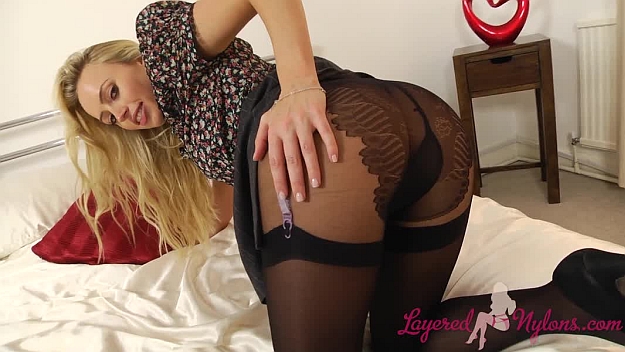 'Hi, Guys, it's Holly here, hope you enjoy my cheeky strip today,' says our gorgeous blonde as she poses in the bedroom in her floral blouse, long grey pinstripe skirt, black nylons and heels.
Holly sways beautifully as she stands in her heels and turns, her hands sliding over the cheeks of her ass in that tight fitting grey skirt. She saunters over to the bed and kneels on the white satin sheets, lifting her skirt to reveal black pantyhose layered over her panties, suspenders and stockings.
Holly shifts on her knees and caresses her shapely buttocks, encased in dark patterned nylon pantyhose. The purple satin of her suspender straps stretched around her ass cheeks pull taut on the tops of her black stocking tops, under the layer of her sheer nylon tights.
Holly strips off the skirt and unbuttons the front of her blouse, smiling up at us as she pushes her boobs together inside her purple bra. Then stripping off the blouse, she lays back on the satin sheets with her long blonde hair spread out and falling over the edge of the bed and slides her hand down the front of her pantyhose.
Holly kneels once more on the bed and releases the clasps of her bra to strip away it away and fondle her fabulous pendulous breasts and erect nipples.