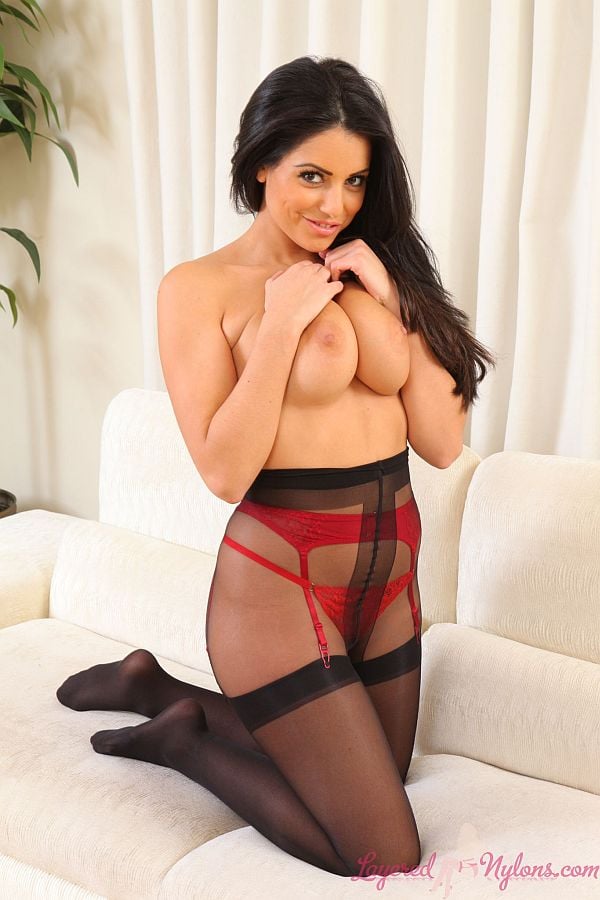 Busty secretary Charley S is back to tease and please you in her layers of black nylon pantyhose, stockings and stiletto heels in her latest photo-set…
Charley's tight fitting dress clung to the curves of her fabulous figure and the open halter neck gave us a tantalizing view of her cleavage through the opening at the front.
Standing sideways on, she looked back at us and ran her hand through her long brunette hair, showing off the shape of her fabulous ass in that dress, her legs in black nylon hose so incredibly sexy in her black stiletto heels.
Pulling up the front of her dress revealed she was wearing a lacy, red suspender-belt and matching red thong, all under a layer of black, sheer nylon pantyhose.
Stripping off her dress, she turned to display her fabulous, pear shaped ass, sheathed in it's layer of black nylon, her red suspenders stretching over her buttocks and pulling taut on her nylon stockings.
Charley's lips curled into a naughty smile as she grabbed the fleshy mounds of her luscious tits and squeezed them together in her hands.
Slipping off her heels, she stood in her stockinged feet and pulled the waist of her hose so they were stretched around the crotch of her red panties and over the mounds of her voluptuous boobs.