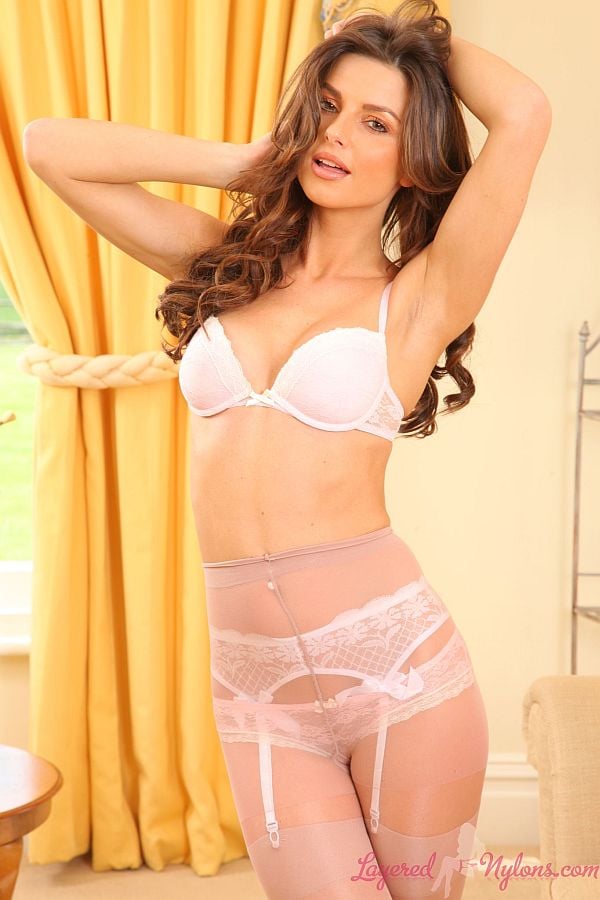 Caroline posed in her low cut top and tight fitting, polka dot skirt, so short it gave tantalizing glimpses of the tops of her beige-tan nylon stockings just below the hemline.
Kneeling of the sofa she lifted up the back of her skirt, revealing sexy pink lace panties and white suspenders and attached to the tops of her stockings, all under a fine layer of beige-tan nylon stockings.
Looking back over her shoulder, she unzipped her skirt and pulled it over her ass and down legs in their shiny, nylon stockings. Her peachy ass looked fabulous, sheathed in the thin layer of her hose and dressed in lacy panties, her suspenders stretching around her bum cheeks, pulling taut on the tops of her stockings.
Caroline stripped off her top, revealing a light pink bra and posed in her lacy lingerie as she stretched her pantyhose in her hands. She pulled the waist of her hose down, revealing more of her lacy suspender belt and her sexy panties clinging to the cheeks of her bum.
Reclining on the sofa, she slipped off her pink, stiletto heels and extended her leg upwards to dangle them from her feet and toes. Removing her shoes, she lay on her back and lifted up her legs once more to give close up views of her feet in their layers of silky, nylon hosiery.