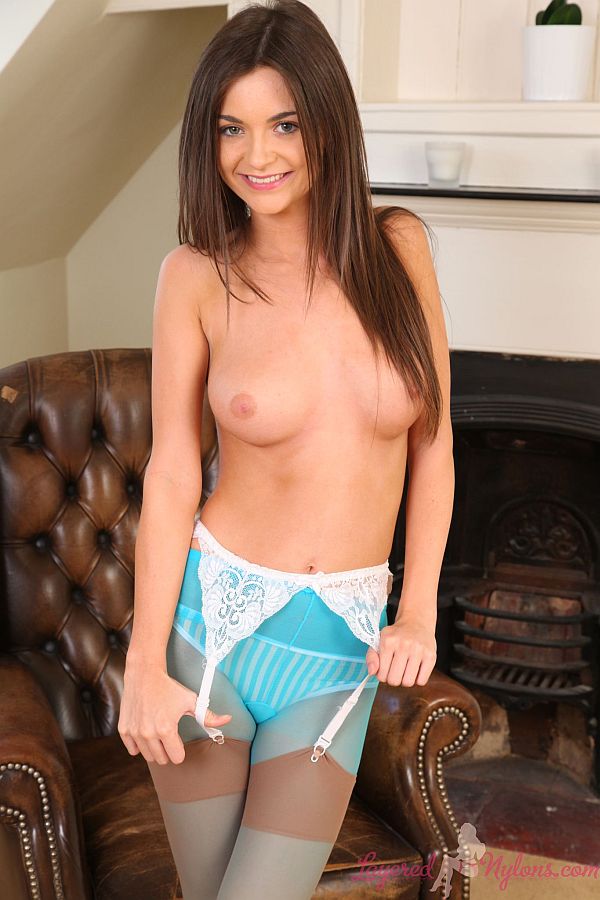 Tianna pulled at the sides of her polka dot dress, making it flare outward around her thighs as she stood and teasingly swayed her body from side to side.
Giving us a saucy smile, she slowly pulled up the hem of her dress, revealing the clasps of her white suspenders, attached to tan nylon stockings, layered over blue pantyhose.
Tianna turned around and lifted the back of her dress to expose her blue and white striped panties under the layer of her sheer nylon pantyhose.
Reclining in the leather chair she rested her legs over the arm, revealing the turquoise blue oval of her pantyhose gusset, stretched under the crotch of her panties. She then stripped off her dress to show she was wearing a matching blue and white, striped bra and the lacy, white suspender belt around her waist.
Tianna turned to kneel in the chair and pushing her hand down the rear of her pantyhose, it moved around under the stretchy nylon as she touched her ass through her panties.
Stripping off her bra, she lay back and posed topless, sliding her hand between the layers of her hosiery and making her suspenders pull taut of the tops of her nylon stockings.