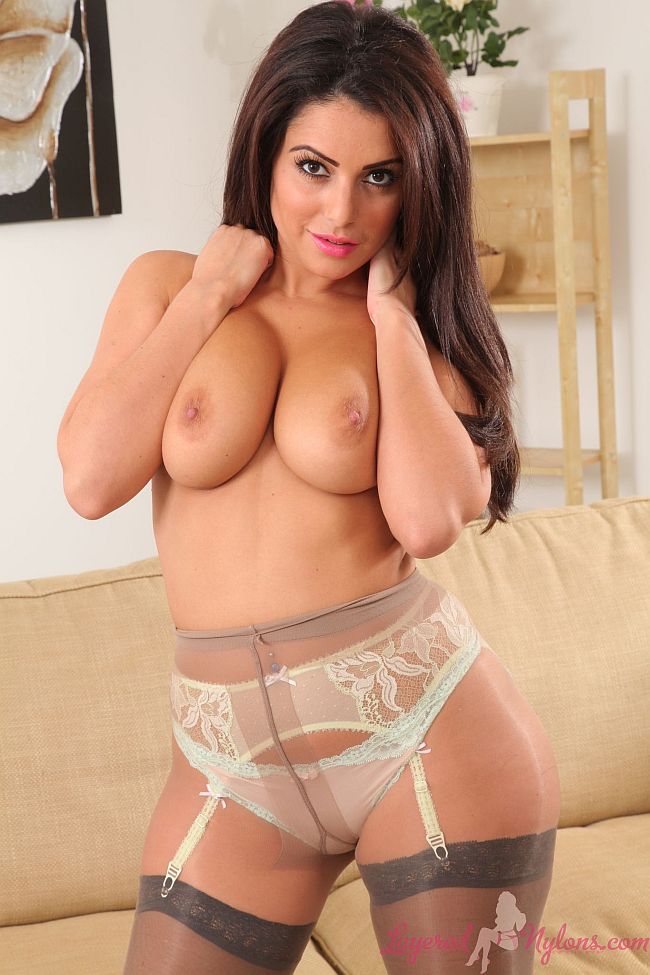 Busty brunette Charley gave a saucy smile as she reclined on the couch and pulled back her skirt, revealing a glimpse of suspenders attached to the lace tops of her black stockings under a layer of beige, sheer nylon pantyhose.
Charley lifted the front of her blouse and held it above the pretty lace bra which uplifted the cleavage of her voluptuous breasts. She stripped off the blouse and slowly eased the tight fitting skirt over her wide hips and drew it down her stockinged and pantyhosed legs.
Kneeling on the floor she gave a view of her ass, sheathed in the dusky nylon of her sheer pantyhose and bound by the creamy colored suspenders attached to her stocking tops.
Charley slipped the straps of her bra over her shoulders and leaned forward so her breasts hung heavy inside the loose cups. She stripped the bra away and held her hands over her huge boobs, before finally uncovering the soft mounds and allowing them to hang freely from her chest.
Standing in her pink open-toes heels, she pulled the waist of her sheer nylon pantyhose up her belly almost to her boobs. The opaque oval of the gusset of her hose stretched tight around the crotch of her light blue panties, while she posed topless in her suspenders, panties and layers of nylon hosiery.