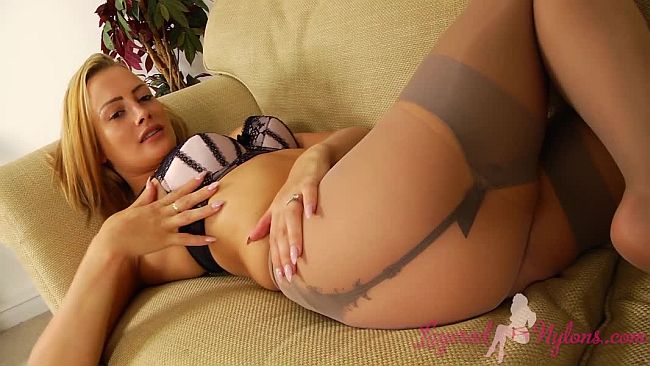 Kelli Smith caresses the lingerie beneath her tight fitting, white roll-neck sweater top and black leggings, as she stands in her open-toe heels. Swaying gently, she runs her hands around her thighs and over the cheeks of her ass, then up to touch her breasts under the tight material of her sweater.
Kelli lays on the sofa and slips off her heels, curling her toes and showing the soles of her feet inside their layers of tan hosiery. Lifting her ass of the sofa, she pulls the leggings from under herself and strips them down her legs, revealing dark tan stockings and black suspenders under a layer of sheer nylon pantyhose.
Stripping away the leggings completely, she relaxes and brushes her thighs close together, enjoying the sensation of her hands caressing the surface of her nylon hosiery as they sweep over her shapely legs.
Kelli strips off her sweater, revealing a pink bra decorated in black lace, then reclines while pushing her hands over her belly and down the inside of her pantyhose. Her hands move under the stretchy nylon of her hose as she feels her thighs and playfully slides her fingers under the tops of her stockings.
Kelli strips off her bra and gets up to stand in her stockinged feet, while caressing her all natural breasts and posing in her panties, suspenders and layers of nylon hosiery.