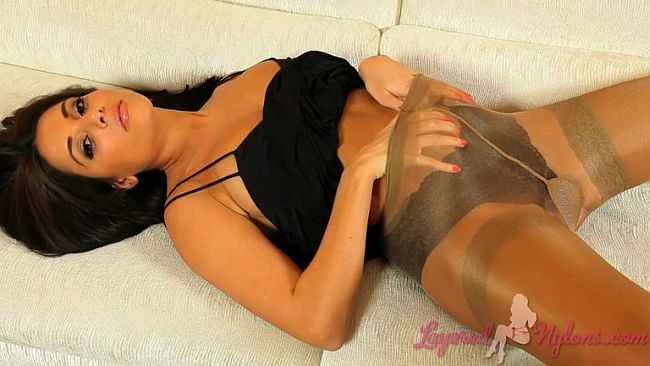 'Hi guys, Charley here again! I'm just on my way out so I thought I'd show you my nice outfit,' Charley said, looking elegantly dressed for a party in a long, flowing evening gown.
Charley sat on the sofa and parting the long side slip of the dress she reached down to her ankles and drew her hands up her legs covered in a layer of silky, tan pantyhose. Her fingers to glided over the smooth surface of her nylons, up to the lace tops of her stockings around her thighs that lay under her sheer pantyhose.
Kneeling, she swept the slinky satin of her the dress over her pantyhosed ass and caressed the cheeks of her shapely buttocks encased in shiny nylon hosiery.
Charley lay back on the sofa and pulled the dress around her waist, then slipped her hands under her hose and over her lace panties. The taut nylon of her hose stretched against her forearms as she pushed deeper and caressed the flesh of her thighs and lace tops of her stockings.