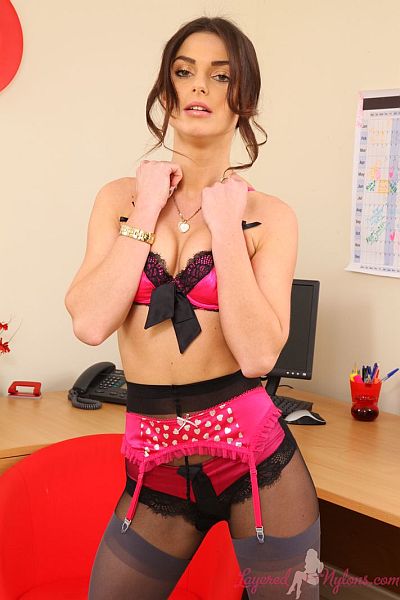 .
Gorgeous brunette Caroline is an office girl who likes to dress smart in a pinstripe shirt, tight black skirt, stockings and heels, because she knows just how sexy she looks in her outfit and the effect it has on her male colleagues
"I like to tease them by wearing a short skirt so they can barely see my stockings tops, I think it drives them a bit crazy", she laughed. "I love to tease them and they know it's a game of sorts, but it makes working in the office a lot more fun".
Caroline had recently started to wear a layer of both stockings and pantyhose together; not that anyone in the office would know it, but her secret layers were part of the thrill of wearing them together. "Would you like to see what I've got on?" She asked needlessly, then turned to hike up her skirt and show she was wearing grey stockings and hot pink suspenders over sheer black pantyhose.
Climbing onto the desk she got in a kneeling position and leaning on her forearms she presented us with her lovely pert ass, all wonderfully encased in layer of sheer nylon over which her pink suspenders stretched down to the tops of her nylons.
Unbuttoning her shirt she opened it out to reveal she was wearing a pink satin bra with black lace frills. She removed the shirt, then slipped out of her skirt to show that her bra matched the pretty, pink suspender belt under which she was wearing some very sexy, red panties.
We told Caroline it was best that her colleagues didn't see exactly what she was wearing to work under her clothes, as it may drive them even crazier if they actually knew.
See sexy brunette office girl Caroline teasing in her layers of lingerie, stockings and sheer nylon pantyhose in this 132 image photo set at Layered-Nylons.