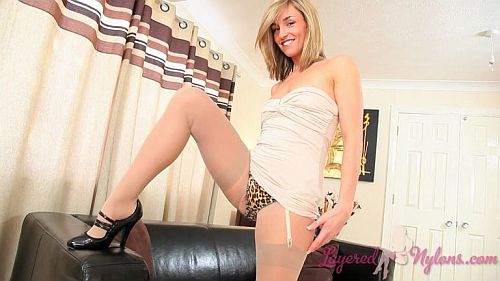 "Hey boys, I'm Melamie and today I'm wearing gorgeous stockings and tights! Would you like to see?"
Melanie smiles as she puts her left foot on the arm of the sofa, and lifts the hem of her dress ride up over her thighs to show she is wearing sheer nylon pantyhose over beige stockings.
"Makes me feel very sexy, wearing these," she says, as her hands caresses her left leg and touch the taut suspender strap wrapped around her thigh under the layer of her pantyhose.
Placing her left foot back on the floor, she then lifts her right foot onto the arm of the sofa to show she is wearing some sexy leopard print panties which cover the opening of the open-crotch pantyhose she is wearing.
Lifting the back of her dress, Melanie's hands move over her ass in panties and explore the bumps of her suspender clasps through the thin layer of sheer nylon that clings tightly to her thighs.
"I love how they feel against my skin, "Melanie says, running her hands sensuously over her crossed legs as she sits on the sofa, "how sexy they are in both stockings and tights!".
Melanie stands to remove her dress and reveal her naked breasts, cupping them in her hands as she turns to give a view of her half naked body in layers of lingerie and nylon.
See gorgeous Melanie perform a very seductive tease in her layers of pantyhose and stockings in this video at Layered-Nylons.