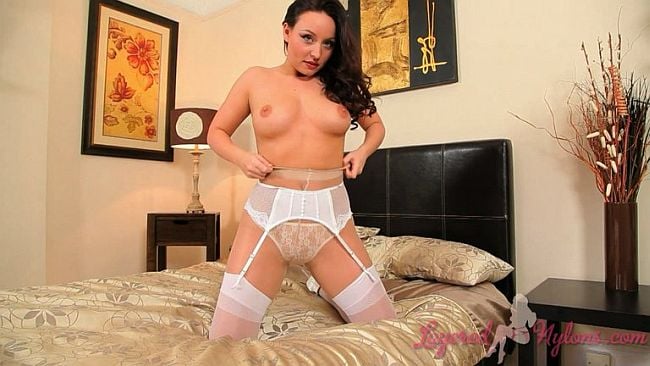 'Hi guys, I just got back from a party and I wanted to show you what I'm wearing underneath my dress,' Carla said, showing off her shapely figure clad in a revealing, white cotton dress, through which the outline of her white suspender-belt was clearly visible.
Carla circled her hands over her curvaceous hips and turned to caress her fabulous ass through the tight material of her clingy dress. 'This is what I've been dying to show you,' she said and gathering the hem of her dress, she pulled it up to reveal her white suspenders and stockings, layered over glossy, sheer nylon pantyhose.
Sitting on the bed she caressed her stockinged legs and ran her hand across the crotch of her pantyhose under which she was wearing a lace, pantie thong. Then she knelt and pulled up the back of her dress to show off her buttocks, sheathed in shiny nylon and the beige-tan oval of her pantyhose gusset, stretched over the rear of her pantie crotch.
Carla stripped off the dress to uncover her all natural breasts, then kneeling on the bed she slipped her hand down the front of her hose and her fingers played around the crotch of her panties. 'Can you see how lovely and glossy these pantyhose are?' She said, as her hands swept up her shapely legs and brushed over the smooth surface of her silky layers of nylon hosiery.