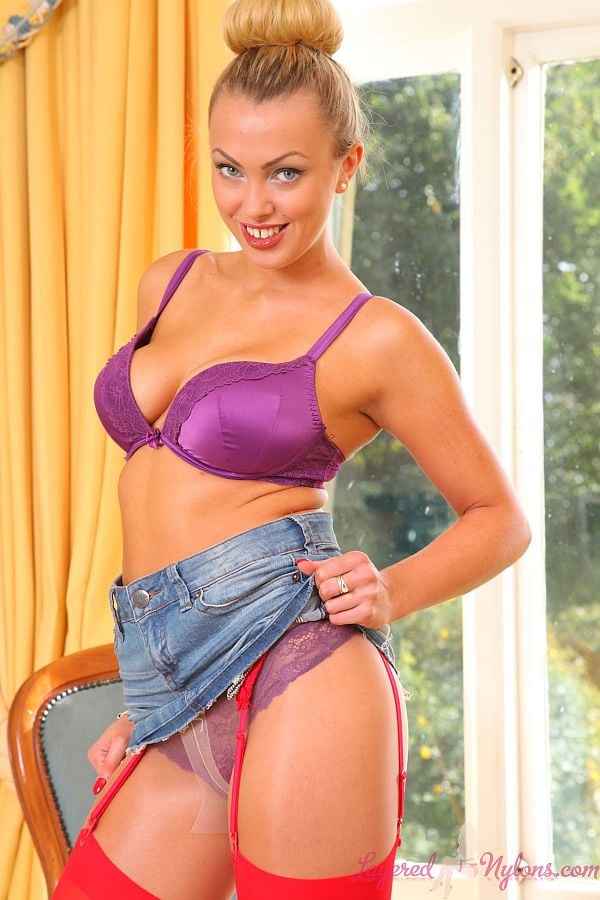 Lainey looked very sexy in her gingham shirt as she stood with her back turned and gave us a view of her shapely legs in their red nylon stockings and heels. Her skirt was short enough to reveal her stocking tops and a tantalizing glimpse of her tan, pantyhose gusset, clinging to her crotch between her thighs.
Lainey unbuttoned the front of her gingham shirt and stripped it off to show she was wearing a purple bra, then turned to slide her skirt over the cheeks of her ass and reveal the purple lace panties, under the layer of her tan, sheer nylon tights.
Kneeling, she showed off her fabulous ass sheathing in the shiny layer of her silky hose and suspenders stretching over her rounded buttocks, pulling taut on the tops of her stockings. Then she slipped the straps of her bra over her shoulders and teasingly held the cups in place awhile, before stripping the bra away and displaying her all natural breasts.
Lainey sat in the chair and slipped off her heels, then crossing her legs she slipped her hand down the tops of her red nylon stockings, as she posed topless in her layers of lingerie and nylon.