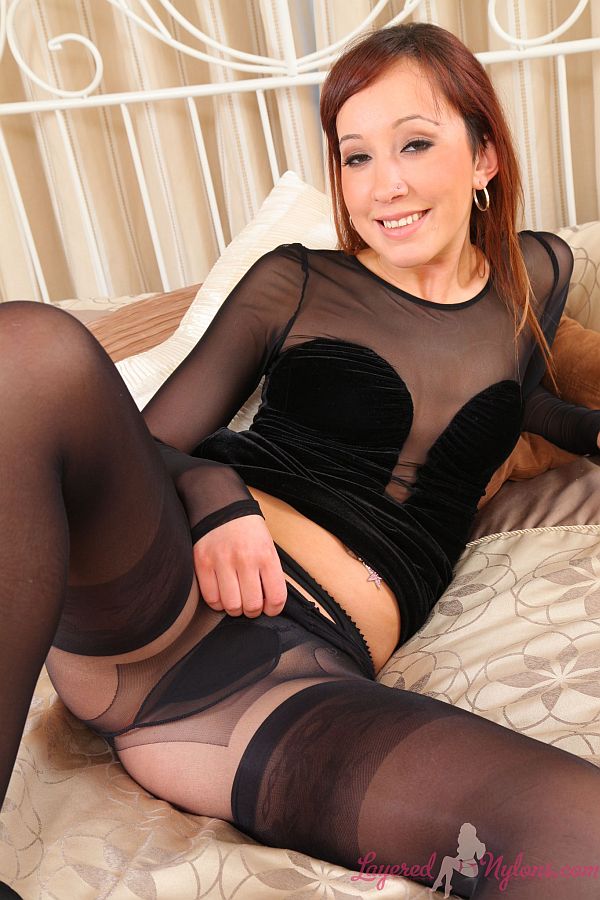 Eva looked alluring dressed in a black, tight fitting, semi-sheer party dress, which clung to the curves of her body and barely covered her thighs, clad in a layer of sexy hosiery.
Eva stood and rested one knee on the bed, then pulled up the back of her dress to display her shapely ass, sheathed in it's layer of black nylon. Her black suspenders looked so sexy as they stretched over her buttocks and pulled taut on the pattered tops of her designer stockings.
Laying on the bed, she brushed her hands over the surface of her slinky hose, then slipped off her heels and stretched out her legs to display her feet in their layers of black nylon.
Eva pulled the dress over her head to reveal her petite, all natural breasts and the tiny triangle of her black, pantie thong, under the layer of her sheer to waist pantyhose. Then she lay back and opened her legs to give a view of the opaque, black oval of her pantyhose gusset, stretched over the crotch of her panties.
Laying flat on her stomach, she spread her legs over the silky bed cover to give a view of her peachy ass, then rolled over and lifted up her legs, crossing them at the ankles to display more of her pretty feet in their double layers of black nylon