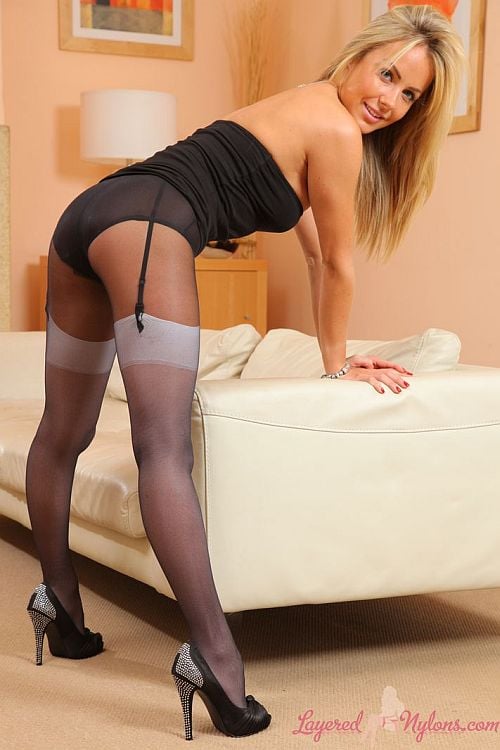 Becky R looked stunning as she glanced back over her shoulder and shook her long blonde hair, causing us to glance down and admire her petite ass under a tight skirt, sexy legs in nylon and the diamante heels on her feet.
Becky eased back the hem of her skirt reveal that she was wearing white nylon stockings under a layer of black sheer pantyhose. Then reclining on the sofa she parted her legs to give us a view of her pantyhosed crotch behind which she was wearing tight black panties. Lifting her legs upward she brushed them together, making them swish with the sound of whispering nylon and causing the long black suspenders to pull on the tops of her stockings.
Becky stood to give us a rear view as she eased the skirt over the rounded cheeks of her ass encased in it's layer of shiny black nylon, then pulled her top over her head to expose her breasts and pose semi-nude. Pushing her hands down the rear of her hose she rolled them down slightly to expose her panties them pulled them back up around her waist.
Now sitting down, she slipped off her heels and lay on the sofa swinging her legs and offering views of her pantied ass and pretty nyloned feet in their sexy layers of stockings and pantyhose.