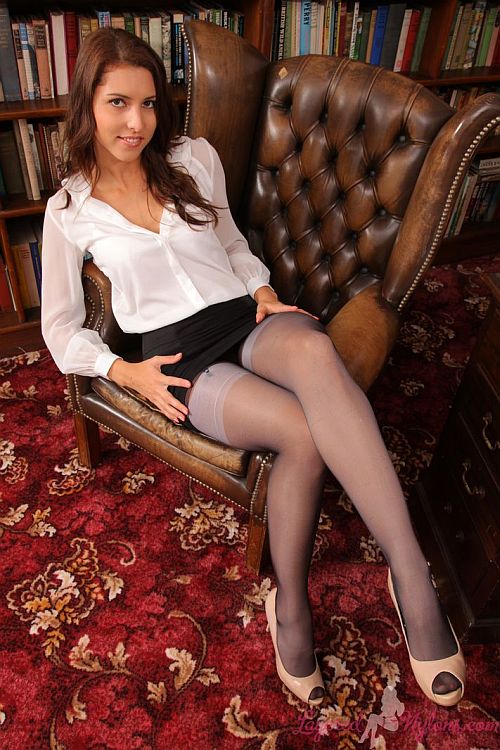 Delectable brunette Ann dressed like a sexy librarian in a white blouse and tight black mini-skirt, her shapely legs looked incredible in shiny nylon as she stood and posed in her heels.
Ann looked very beautiful as her long hair cascaded over her shoulders and gave us one of her sexy smiles as she sat on the edge of the desk. Slowly easing up the edge of her skirt revealed she was wearing white nylon stockings under a layer of sheer pantyhose. She opened her legs so her skirt moved higher up her thighs and sat forward so that we could see she was actually wearing no panties under her tights.
Ann reached behind her waist to unzip her skirt and unbuttoned her blouse, standing with her legs slightly apart so as to offer a tantalizing glimpse of her crotch encased in clingy nylon. Then she knelt of the floor to offer us a view of her lovely ass sheathed in black sheer hose, under which her black suspenders stretched over her thighs to the tops of her nylon stockings.
Ann pushed her hand down the back of her pantyhose and moved it around under the stretchy nylon, gripping the soft flesh of her buttocks with firm fingers. Then she removed her bra to pose topless and climbed onto the desk where she opened her legs to show us the black opaque patch of her pantyhose gusset covering her mons pubis beneath.