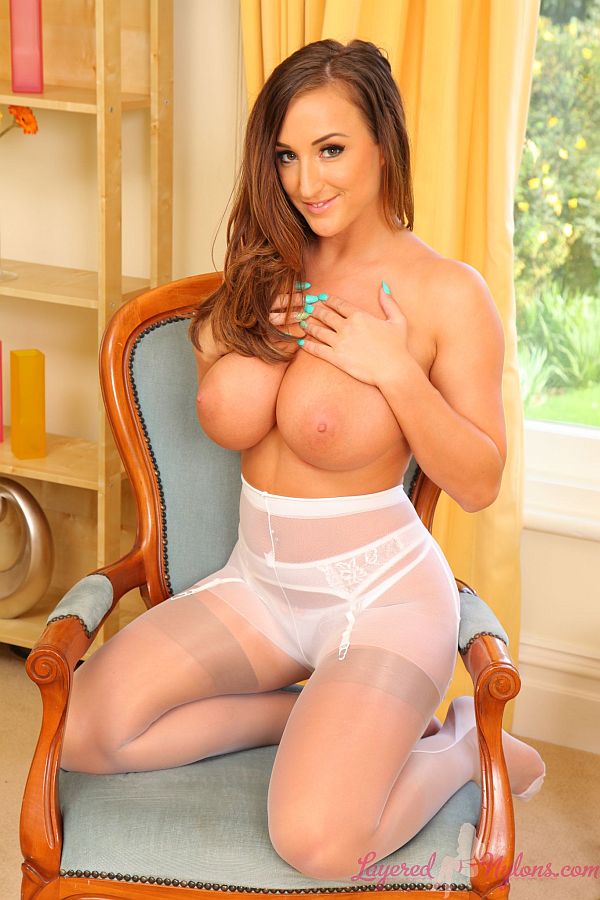 Stacey sat in the chair and opened her legs slightly and gave a tantalizing view up her dress at the crotch of her white panties and tan stockings, under the layer of sheer nylon pantyhose.
Getting up to stand in her open-toed heels, she lifted her dress up and held it out in a fan around her hips, displaying her pantie thong and white lacy suspenders attached to the tops of her tan stockings. Then she turned and flaunted her fabulous ass sheathed in nylon hose and long, white seam, that ran up the back of her legs from her heels to her thighs.
Stacey stripped off her dress, revealing a white, low cut bra, that emphasized the fullness of her cleavage, then knelt on the floor so that we got an even better view of the smooth skin of her ample bosom.
Slipping off her heels, she lifted up her legs and dangled them from her toes, before taking them off and kneeling to give a view of her feet in their white, reinforced heel pantyhose.
Stacy hooked her thumbs under the straps of her bra and peeled the cups away to release the mounds of her voluptuous, all natural breasts. She posed topless as she sat in the chair and lifted up and extended her legs outward to point her feet in their layers of nylon hosiery.