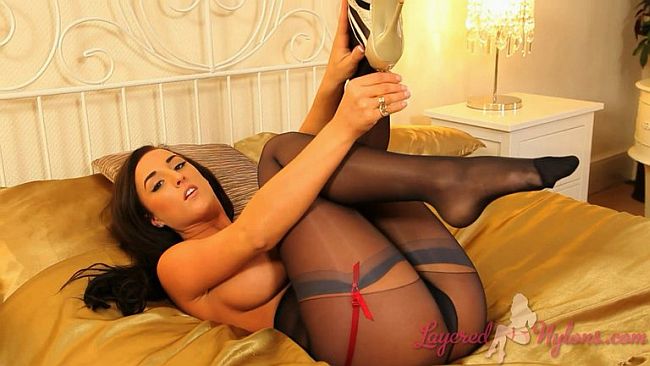 Stacey hopes you are going to love her new outfit in which she is going to strip-off and then tease in as she poses in her underwear and layers of nylon.
Stacey looks amazing as she stands by the bed and flaunts herself in a figure hugging pink dress, running her hands over her curves and enjoying the sensation of the cool satin against her body. The open neck of the dress plunges down and the material clings to her huge breasts and frames the tanned flesh of her ample cleavage.
Stacey kneels on the bed and slowly raises the hem of the dress, revealing red suspenders and grey stockings under a layer of black, sheer nylon pantyhose. She slips the straps over her shoulders and lowers the top half to allow her voluptuous boobs to hang freely down her chest. She caresses the smooth tanned skin of her pendulous tits, her hands flowing around the soft curves as she pushes the fleshy mounds together.
Stacey wiggles out of her dress as she strips it off, then lays on her back and lifts up her legs to take off her shoes. Her pantyhose make a swishing sound as she brushes her nyloned legs together and lifts them vertically, pointing her feet and toes in their sexy layers of nylon hosiery.