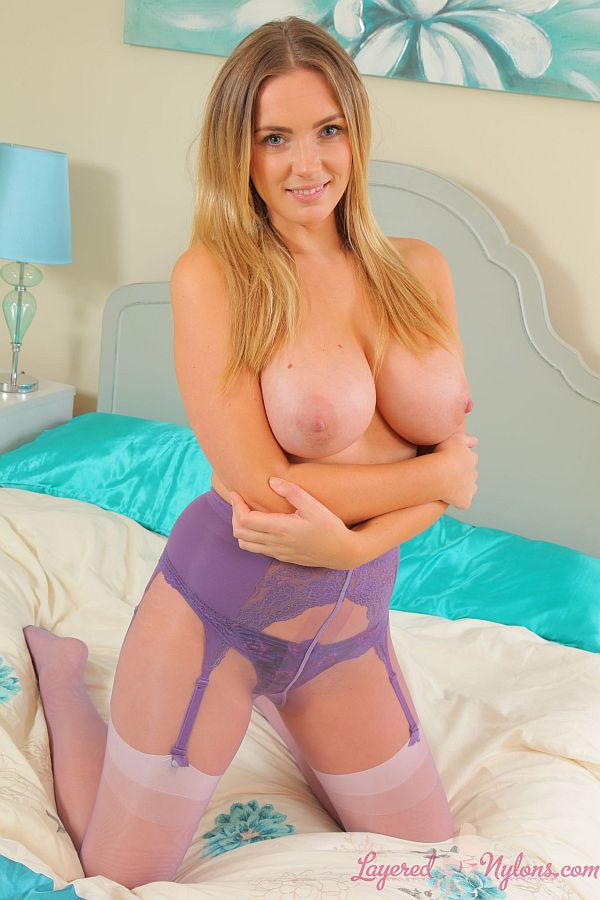 Blonde and busty Stacey M looked so sexy in her clingy dress, showing her nipples and the outlines of her underwear through the tight material which clung to her shapely figure.
The dress hung almost to her ankles and had a sexy side-split along one leg which when parted revealed she was wearing lilac, sheer pantyhose, layered over purple suspenders attached to the tops of her pale pink, nylon stockings.
Stacey eased the straps of her dress over her shoulders and allowed it to slide down her body and posed with her arms folded under her magnificent pendulous breasts with their soft, pink nipples.
A very sexy purple lace garter-belt clung to the feminine curves of her hips, the suspenders framing her purple pantie thong as they stretched down her thighs to pull taut on the tops of her pink stockings.
Stacey reclined on the bed and slipped off her heels, then lay on her front and spread her legs to give a view of her fabulous ass and the soles of her pretty feet sheathed in their layer of  lilac nylon.