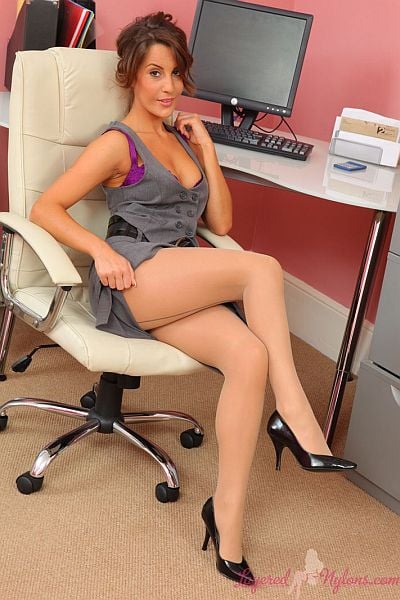 Secretary Emily J has been getting a lot of attention from her boss recently, and she's noticed him trying to look down her top whenever she's kneeling to get something out of the bottom draw of the filing cabinet.
The other day Emily came into work wearing a double layer of pantyhose, including some beige coloured 'Pamela Mann' tights which have a seam running up the back of the leg. She felt her boss mentally undressing her as she walked in and sat down at her desk.  It made her feel very sexy and desirable, knowing her boss was getting aroused just by looking at her legs sheathed in nylon pantyhose.
Emily decided to tease him further, so she went to the filing cabinet and deliberately bent over so her skirt pulled tight around her shapely ass. She spent some time looking in the draw for some files, moving her ass from side to side and giving him a full-on view as he was only sitting a few feet away.
Sitting down at her desk Emily opened her legs slightly so her skirt pulled back and stretched between her thighs.  She then swiveled around in her chair with her legs still open and allowed him to see up her skirt, but only so far as she wanted to tease him. Then crossing her legs, she hitched the edge of her skirt higher and revealed the long, dark line of the seam running up the back of her pantyhosed thigh.
The sight of his secretary in those sexy seamed tights set his pulse racing as his eyes lingered over her lovely, long legs in sheer nylon. If only he had known she was wearing some lacy purple purple French knickers under her pantyhose.
See secretary Emily J striptease down to her double layer of sexy, seamed nylon pantyhose and pose topless in the office in this photo set at Layered-Nylons.