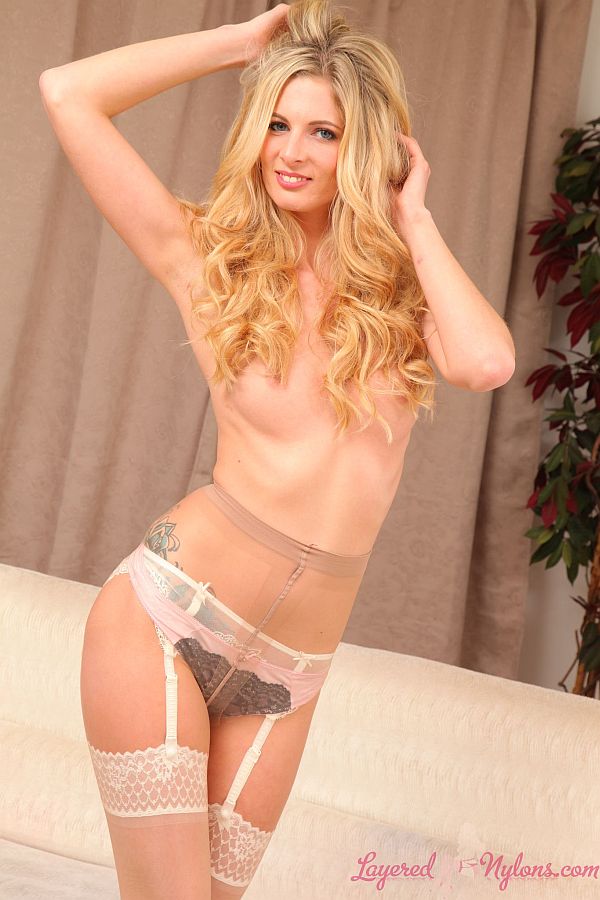 Blonde babe Rebecca Leah makes her debut here at Layered-Nylons and is set to tantalize you with her long legs in their layers of fine nylon hosiery…
Rebecca stood and placing one foot on the sofa cushion, she posed to give us an up view of her suspenders straining on the lace tops of her stockings around the back of her slender thighs. Then she sat down and opened her legs to show the tan nylon of her pantyhose gusset stretching around the crocth of her pantie thong.
Rebecca stood to pull the dress over her head, revealing the matching pink and black lace bra of her lingerie set, then hooked her thumbs into the waist of her pantyhose and stretched the taut nylon around her hips.
Rebecca knelt on the sofa and presented her ass, the thin strip of pink thong material cutting between the cleft of her buttocks, all nicely sheathed in a layer of tan nylon hose. Then she reached behind her back to unhook the clasp of her lacy bra and stripped it away to uncover her petite all natural breasts and pink nipples.
Rebecca sat and slipped off her heels, allowing them to swing and dangle from her nylon clad toes, before removing them completely. She got up to stand in her stockinged feet and ran her hand through he long blonde hair, as she posed topless in her layers of lingerie, stockings and pantyhose.